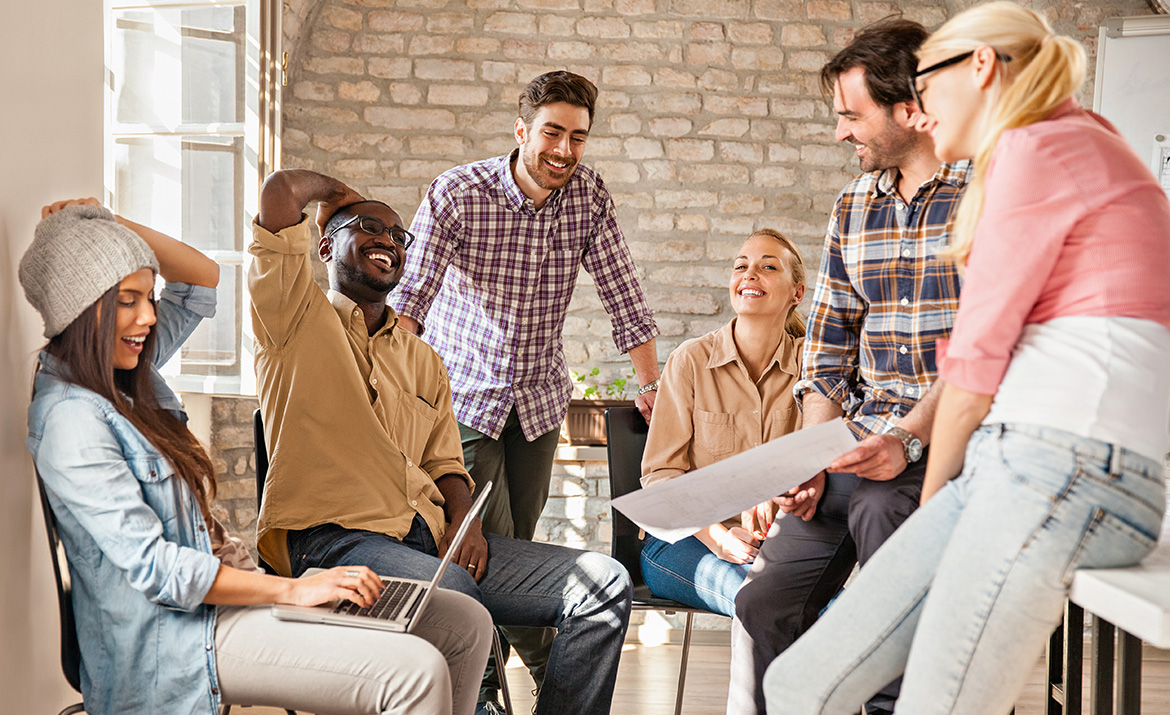 Talent & Performance Management
The module Talent & Performance Management provides all the features you need for talent management in Microsoft Dynamics 365 and Office 365.
From performance reviews to target agreements, right through to Training and eLearning - you'll find comprehensive measures for staff development.
Directly after you have made your purchase decision, all departments can immediately work fully integrated in recruiting . Software islands are eliminated and multiple data entries are a thing of the past.
All tasks are completed in a single standardized interface - simply use your Outlook, Microsoft Teams, preferred browser or use it mobile from all common end devices.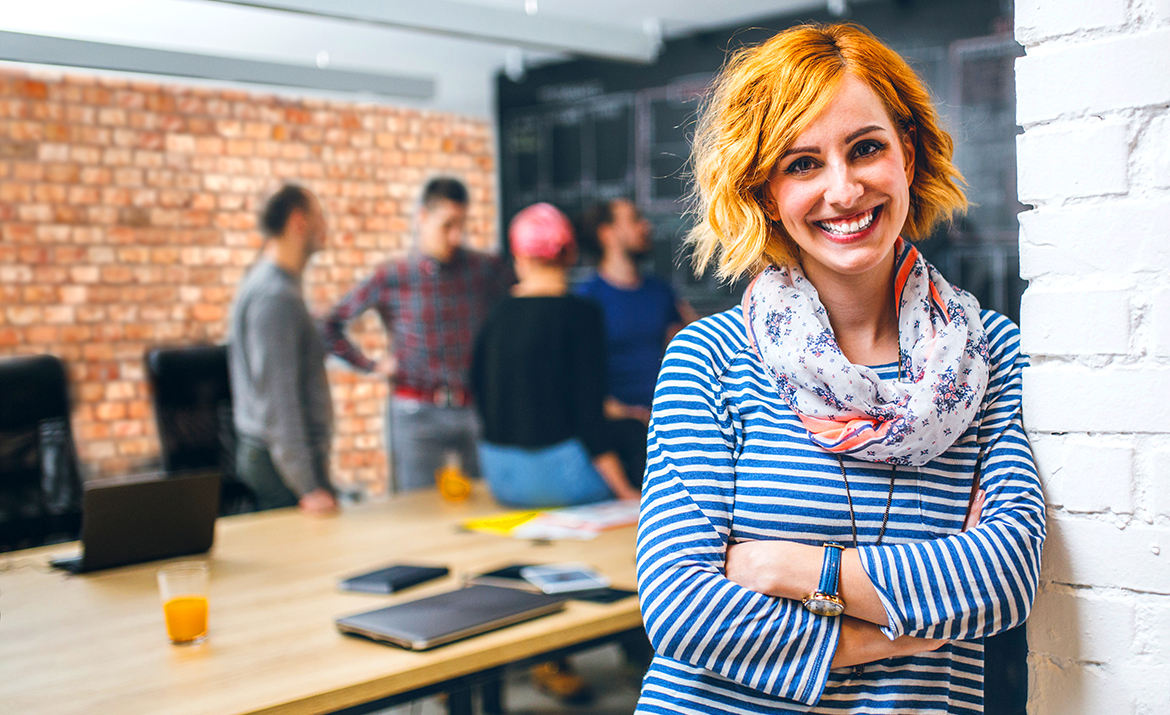 Highlights
All important functions for your talent management are included in the Talent Management module:
Performance reviews
Skills and responsibilities
Target agreements
360° feedback
Performance Potential Analysis (9 box model)
Training calendar and training management
Advanced training and certificates
Health checks and examinations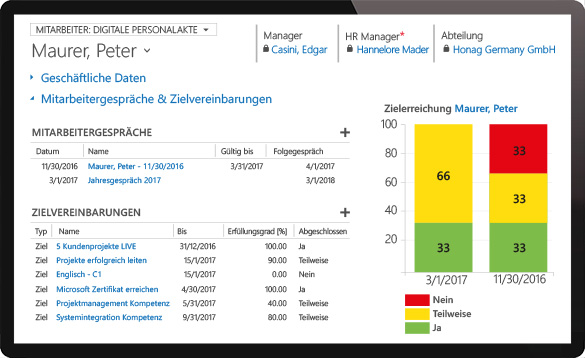 Target Agreements
Individual goals are quickly and simply set during performance reviews for later follow-up. Goals could be actions or skills, trainings and certificates, which should be reached by a specific date. Dynamics Talent Management offers a selection of set goals via a drop-down-menu.
Due to the automatic transfer of goals into the digital personnel file, it is possible to check progress at any time. With this, reaching and following up on goals is child's play.
Set structured, long-term goals in Performance Reviews
Select required skills and skill levels per drop-down-menu
Select required trainings and certificates
Optional deadline for reaching set goals
Set optional bonus agreement
Check and record status and progress at any time
Goals are automatically transferred into the digital personnel file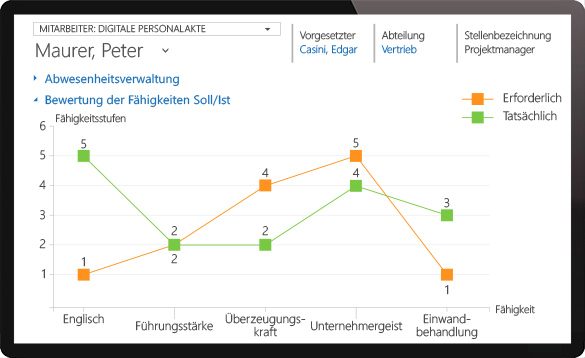 Employee Skills
With the assistance of Dynamics Talent Management, you keep a close eye on the skills of your employees and can immediately address possible deficits. Set requisite skills and skill level for each employee. All required and actual skills are shown in a chart, directly in the digital personnel file.
Assign training for respective employees if and when action is needed.
See all employee skills at a glance
Comparison of required and actual skills per employee
Evaluation via charts display immediate overview of potential deficits
Register employees directly for trainings in order to improve skills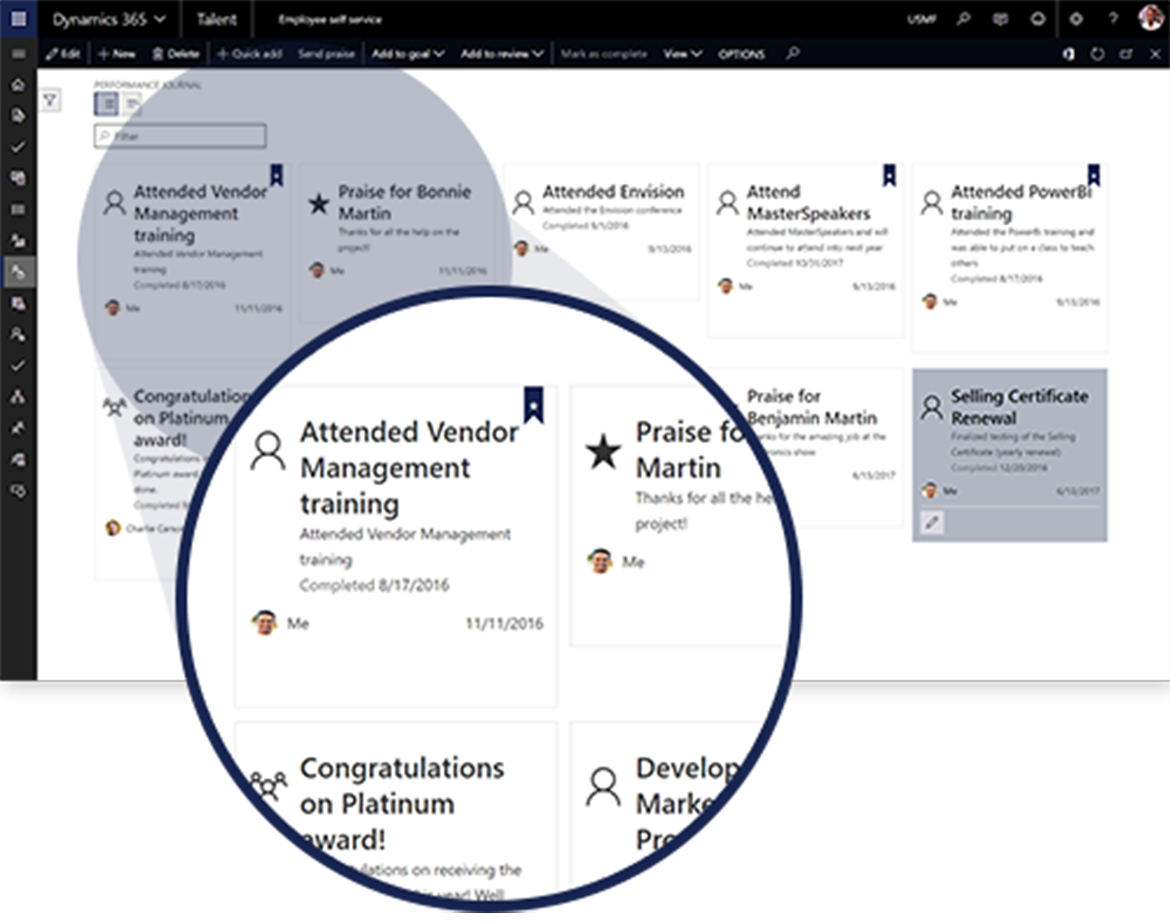 Foster a culture of excellence
Dynamics HR Management helps you to recognize high performers more easily.
Based on this, you can encourage a closer dialogue between employees and supervisors.
View real-time performance dashboards and track accomplishments
Get full transparency around employee performance to take immediate corrective action
Offer visibility through performance journals, real-time feedback, and collaborative goal management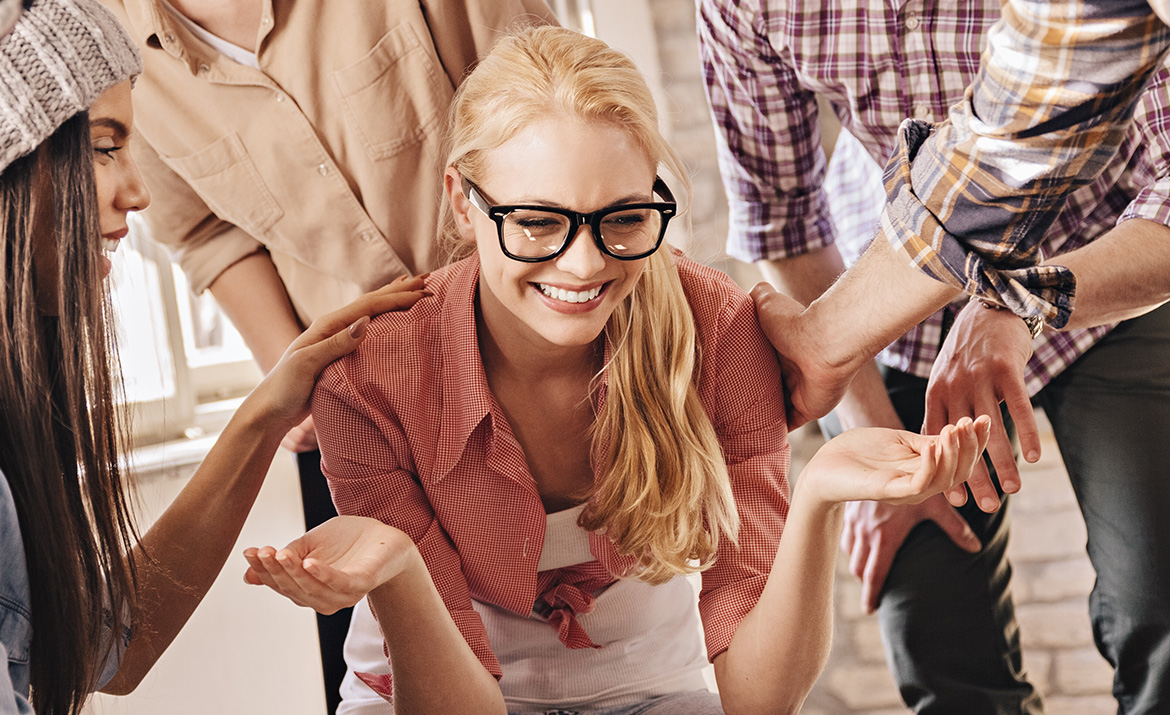 Training and Training Organization
The solution helps you organize training measures - from the selection of internal and external coaches, to the administration of participants, right through to the printing of certificates.
Routine tasks such as the preparation of certificates are automated. Reminders ensure that you never miss an important deadline, and upcoming deadlines can be viewed at any time in the dashboard.
Creation of seminar catalogue for the organization
Manage all internal and external coaches
Prepare a training plan for various sites
Organize participants according to available spaces and waiting lists
Preparation of participation certificates
Participants can view appointments directly in Microsoft Outlook
Seamlessly integrated in digital employee file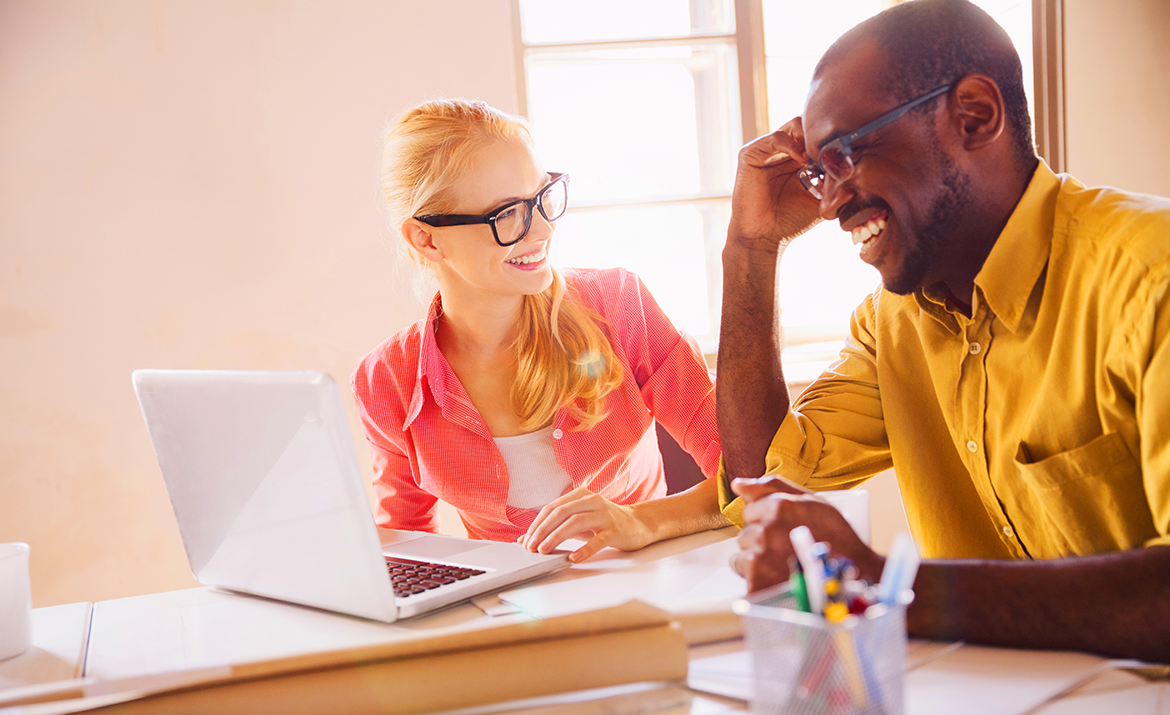 Performance Management
Performance Management supports you in the structured development of your employees. From employee reviews and target agreements to handover to the training organization - all functionalities for the development of the talents are available.
Templates for goals and assessments can be created for all employees or employee groups (jobs, hierarchies, etc.). These can be distributed to the relevant managers with just a few clicks. This ensures transparency at all times regarding the process of the discussion and escalations can be defined via workflows.
In addition to the templates, individual goals can be quickly and easily recorded an tracked directly in the employee meeting. Goals can be activities or skills, training and certificates that are required by a certain date. A link to salary modules is also possible.
Due to the full integration between digital personnel file, employee skills, job descriptions, feedback as well as target agreement, all areas of employee development are always up to date. Dashboards and reports visually support the transparency. And employees get an overview of the current status of their goal achievement at any time via self-services.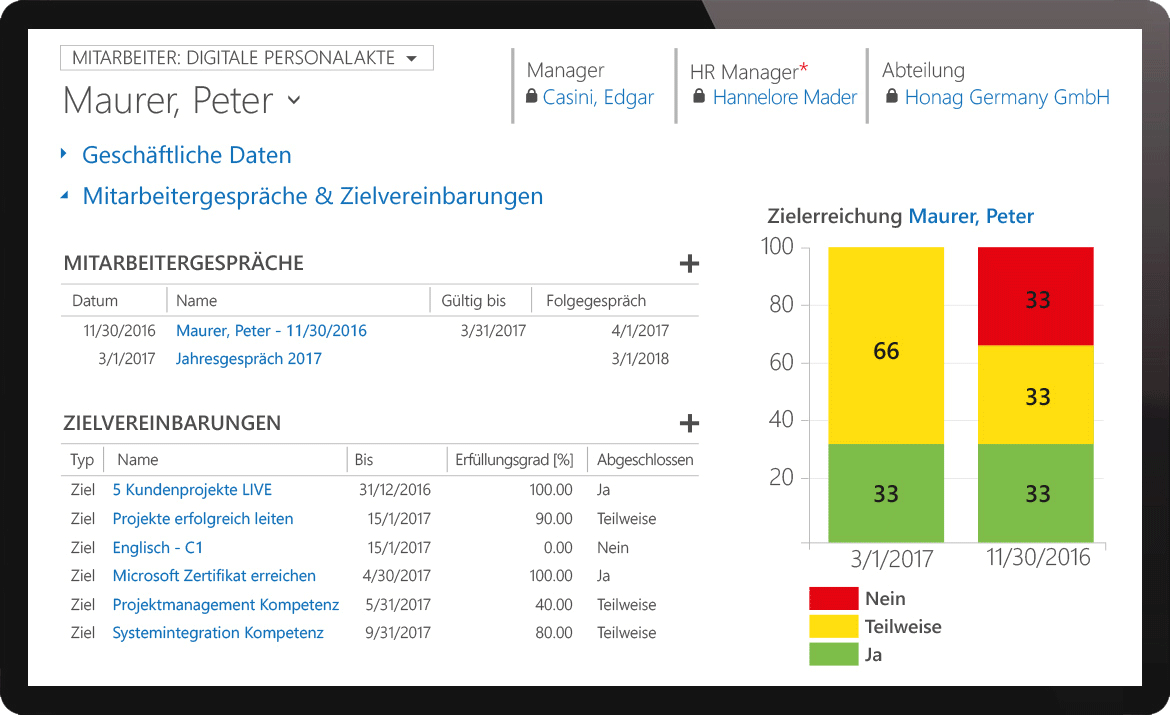 Performance Management Highlights
All important functionalities are included:
Templates for job profiles can be deposited
Templates for evaluations, goals and combined
Automatic distribution of the conversations to the managers
Feedback possible via every end device (also mobile)
Feedback for the appraisee as KPI and graphical evaluation
Different weighting in the feedback is possible
Connection of employee file, skills and feedback
Seamless integration to trainings and salary modules
Real-time evaluation for HR and managers
Additional templates and agreements as Word templates
Digital signature by employee and manager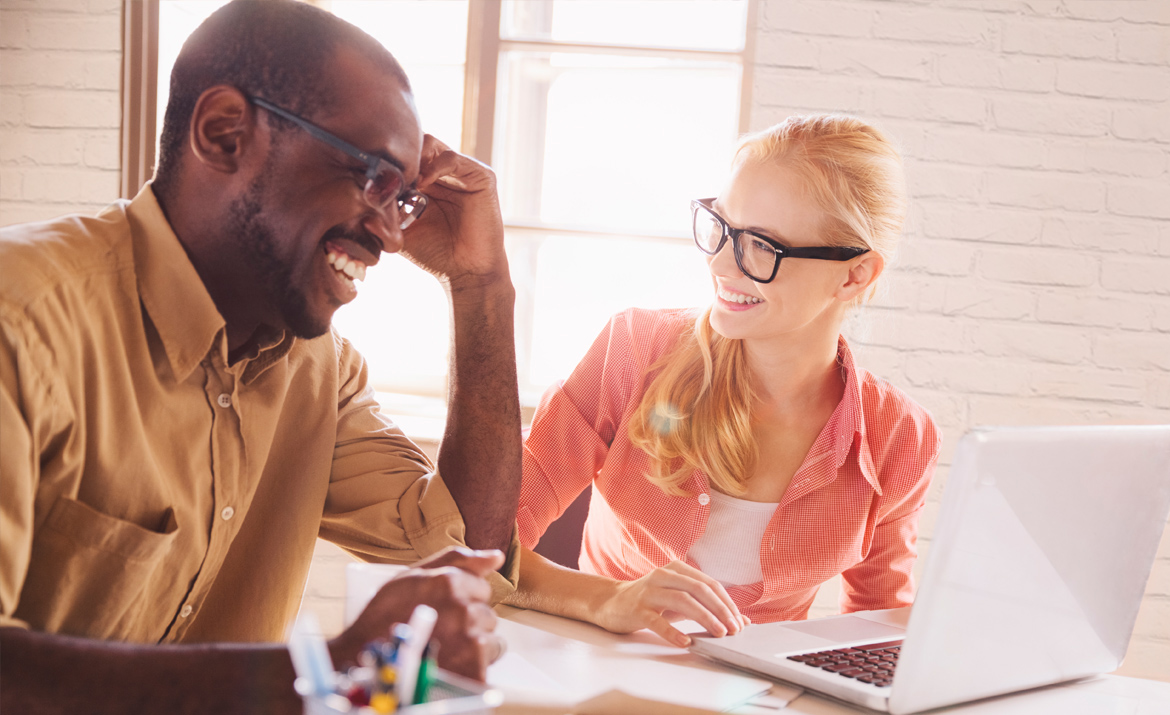 Performance Reviews
Dynamics Talent Management supports you with the organization and implementation of performance reviews. Goals agreed upon are automatically added to the digital personnel file.
Commitments are shown in employee Self-Service portal and in Outlook, as a long-term reminder of goals.
Performance reviews simplified by usage of templates
Employee can view scorecard in Self-Service portal
Transparent, accountable performance appraisal
Digital signature for agreements
Automatic transfer of goals in the digital employee file
Automatic transfer of training requirement to the training module
Participants can view follow-up to performance review in their Outlook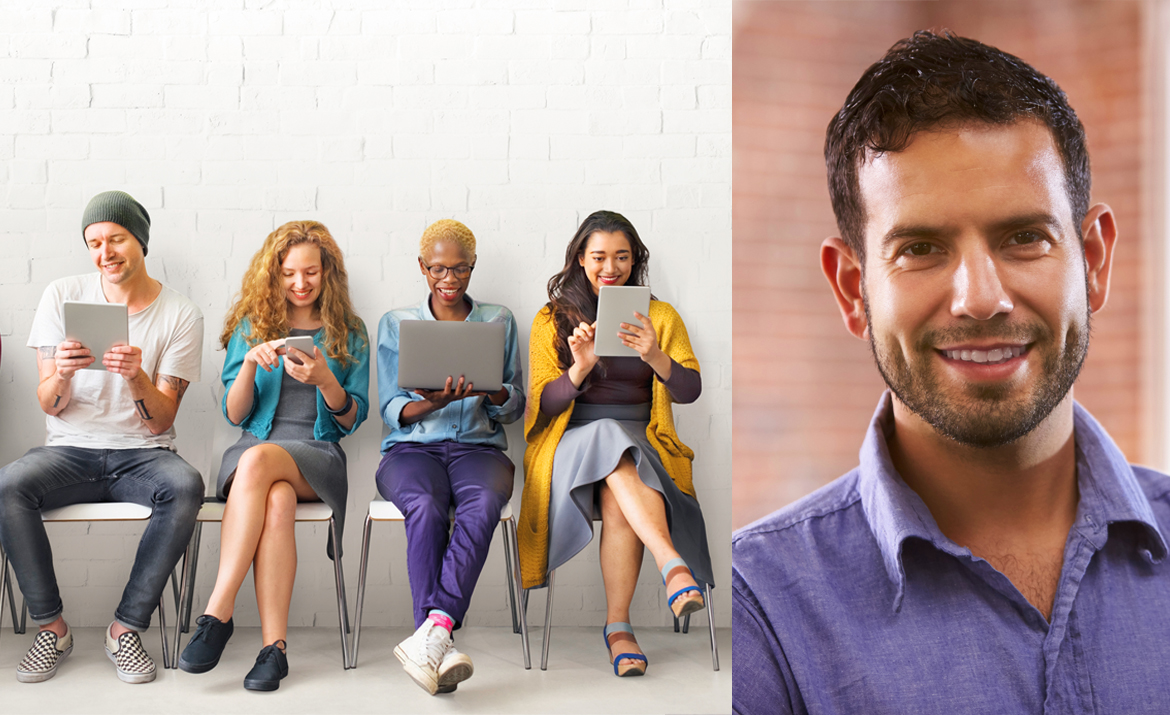 360° Feedback
The 360° Feedback offers your employees to evaluate their managers and other colleagues. Managers will thereby receive comprehensive, consolidated and anonymous feedback on predefined criteria - clearly presented in KPIs and graphical evaluations.
Template-based evaluation forms are automatically distributed to specified employees and groups. With just a few clicks, employees can then fill them out conveniently and from any end device. The feedback from all respondents is collected and returned anonymously to the feedback recipient. The evaluation gives managers a good overview of their performance and graphics show the rating according to individual criteria.
HR maintains an overview throughout the entire process: Real-time evaluations allow them to track the status of feedback at any time and drive it forward if necessary. However, anonymity is preserved in any case. Feedback has never been so easy!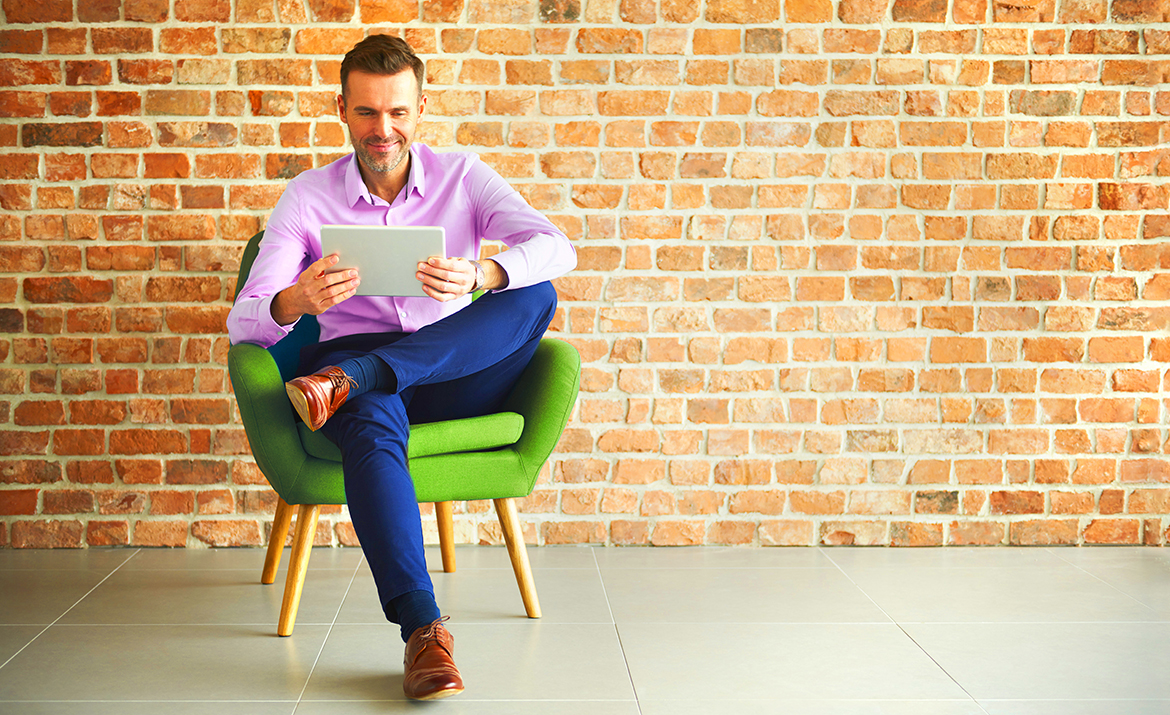 360° Feedback Highlights
Individual templates for all employees and groups
180° (Bottom Up) to 360° Feedback possible
Automatic distribution of the feedbacks to the appraisers
Hierarchies are automatically recognized and considered
Manual selection of additional feedback participants is possible
Real-time evaluation via the feedback status
Anonymous feedback for the appraisee as KPI and graphical evaluation
Gamification of HR
Have you heard of Gamification? Motivate your employees with fun competitions to use the relevant solutions of Dynamics 365 platform. Collect points and compare in high score ranking lists. See at a glance who is winning by comparing the achieved trophies.
A win-win situation. You get feedback over the usage of the system, and your employees receive positive feedback.
Points
High Scores
Progress bar
Ranking
Virtual commodities
Awards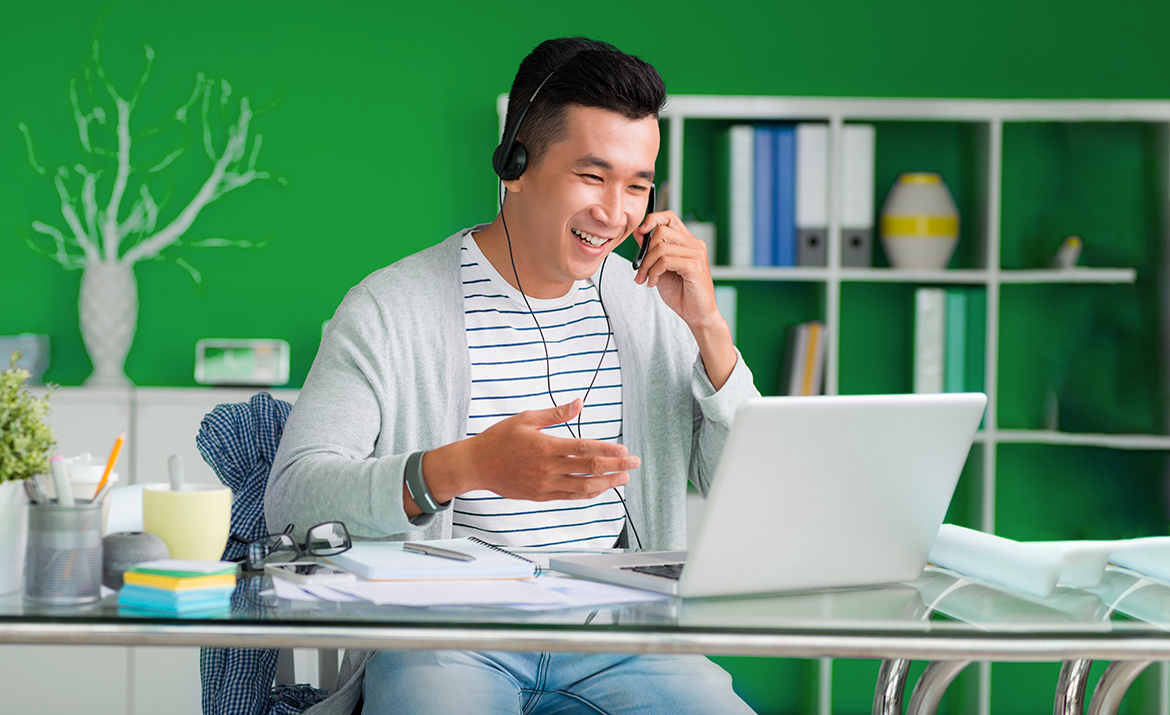 Experience HR for Dynamics live
Erleben Sie innovativstes HR Management im Microsoft Ecosystem live! In einer Online-Präsentation zeigt Ihnen einer unserer HR Experten aus Ihrer Region Lösungsansätze für Ihre individuellen Anforderungen und Sie lernen innovative HR Best Practises kennen.
Was genau bringen Ihnen die 60 Minuten Live Präsentation?
You will see innovative solutions for your planned improvements in HR
You will get a deeper impression of the solution
Your questions from HR and IT will be answered immediately
You will be able to better assess the benefits for your company