Project Success
The Challenge
You would like to assign your local partner with the implementation. Nevertheless you would like to involve the manufacturer in the project.
You would like to carry out the implementation internally, but have little experience with Hubdrive solutions.
Ensure project success - the reliable solution
To solve this challenge, Hubdrive offers the service "Project success Package". The main aim is to ensure an implementation close to the standard. At important milestones in the project, Hubdrive carries out reviews. The service has proven itself many times, both in small and large implementations.

Advantages of implementation close to the standard
Standard functions do not need to be developed again in the project
Standard functions are included in the maintenance contract at no additional cost - individual developments are not included
Project budgets are being saved
Standard functions are being regularly developed by the manufacturer
Milestones of the Project Success Packages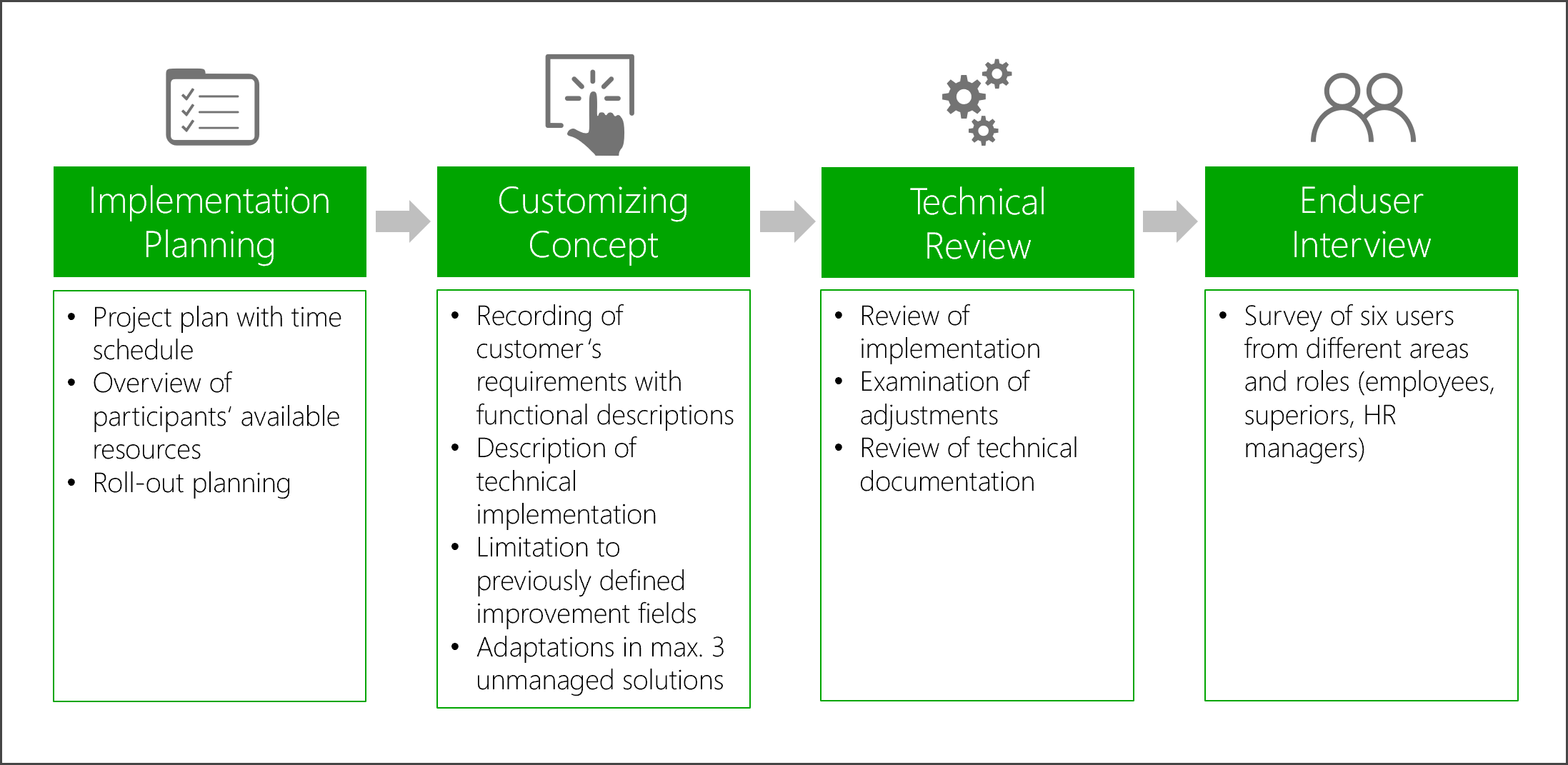 Implementation Planning
In this step, we want to make sure that the partner's implementation plan is realistic. In addition, by drawing on past experience, we can help you to identify and avoid obstacles.
The first review contains:
A project plan with time schedule
- Checklist with tasks
- Timetable for the respective tasks

An overview of the resources available to the project participants
- Best practice and certification training to ensure knowledge transfer
- Display time resources
- Identification of the affected employees of the customer

Roll-out planning
- Preparation for data transfer
- Planning the adjustments

Customizing Concept
In this step, we discuss which special company requirements exist and which adjustments to the system are required for this.
The second review includes:
The recording of the customer's requirements with functional descriptions
A description of the technical implementation
What best practices are required for implementation?
The limitation to previously defined improvement fields
Adaptations in up to 3 unmanaged solutions
Technical Review
The technical examination of the adaptations serves to identify limitations, implementation gaps and further development possibilities. The focus is on the future development of the Microsoft environment. The review includes:
Review of the implementation
Examination of the adjustments
Review of the technical documentation
Enduser Interview
To ensure that the adaptations meet your needs, we conduct surveys with end users. This also creates transparency.
Survey of six users from different areas and roles. 2 employees, 2 superiors, 2 HR managers:
What improvements do users experience?
What additional benefit-generating processes can still be implemented on the platform.
Further information
You can find more information about this service here.
Accounting
Invoicing is done pro rata (25%) for each milestone in advance.
Price
Fixed price based on 185 €/$ per hour
Next Step
Just get in touch with us.
ID: CSTSPU1011