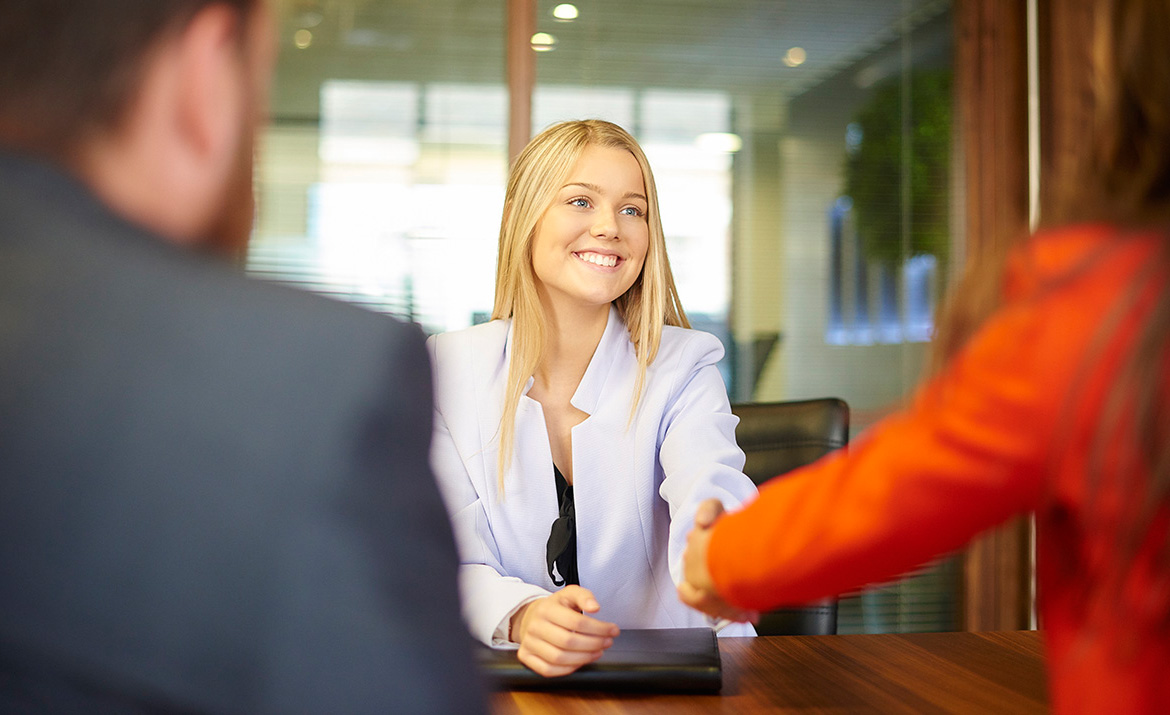 Recruiting & Onboarding
Recruiting & Onboarding extends Microsoft Dynamics 365 with a professional employee Recruiting and Onboarding module.
From position planning and applicant management all the way to creating an offer - the module supports you throughout the entire applicant life cycle. You will continue to be supported until the new employee's first day at work and beyond that until the end of the onboarding.
Directly after you have made your purchase decision, all departments benefit from integrated working. Software islands are eliminated and multiple data entries are a thing of the past.
All tasks are completed in a single standardized interface - simply use your Outlook, preferred browser or mobile from all common end devices.
Discover innovative Recruiting and Onboarding live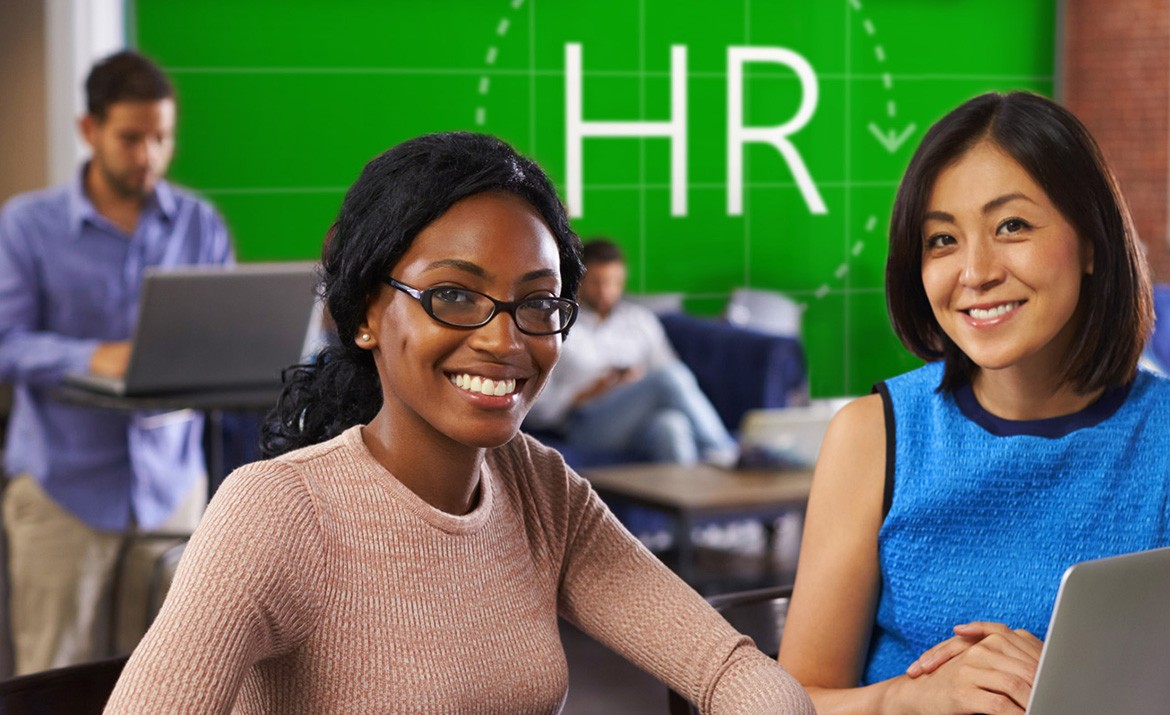 Integrated Recruiting without data islands
The recruiting module provides all functionality and best practices needed in your future applicant management system - from position planning and approval process, vacancy creation based on templates with input from the responsible departments and simple publication to various job portals.
Using the built-in talent search, you can search both your talent pool of applicants and your employees for suitable candidates. In case an applicant applies for multiple vacancies in an organization, a duplicate detection filters the newly created record application and merges it to the existing applicant to enable HR managers to keep a clear overview over the of applications and applicants at any time.
The integrated applicant tracking system (ATS) supports you throughout the entire applicant life cycle. From receipt of the application through rating, evaluation and interview phase to hiring or rejection. The skill-based evaluation system and optional CV parsing via Textkernel enables you to see, at a glance, how suitable an applicant is for the position in question.
Direct integration with Microsoft Word enables you to create offers based on your templates - optionally with a digital signature via DocuSign or AdobeSign. All applicant data is transferred directly to the new employee's digital personnel file.
Benefit from numerous integrated best practice processes that have proven to be successful.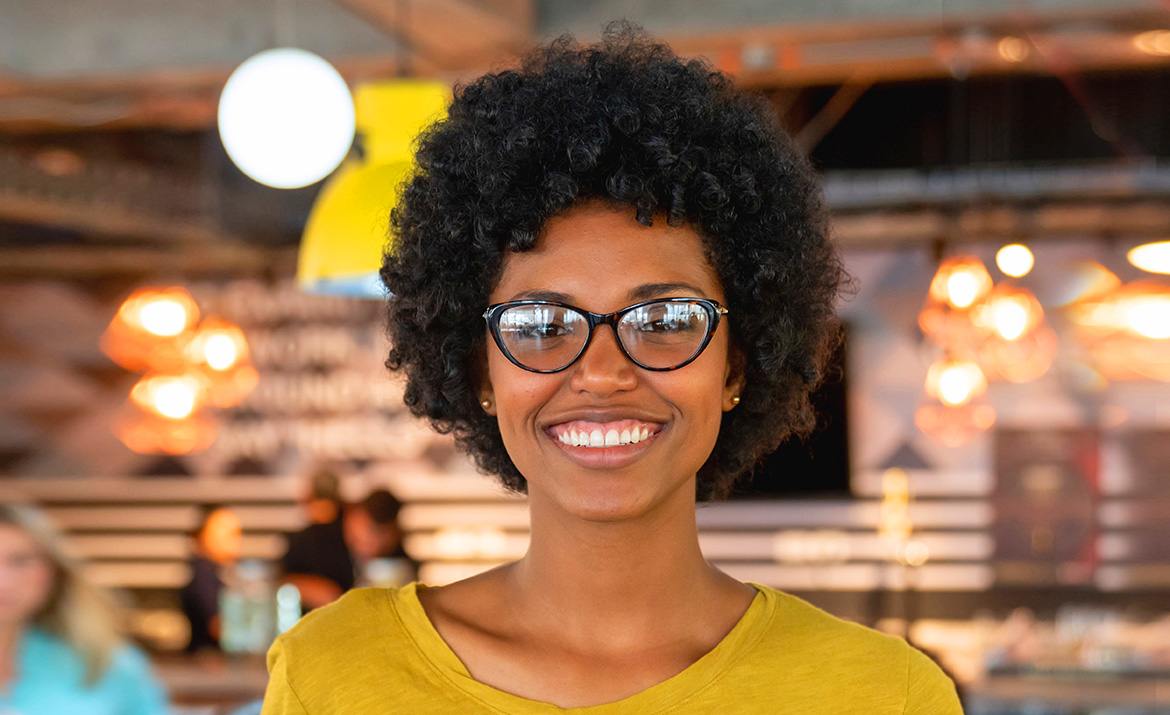 All highlights at a glance
All important functionalities for your applicant management are included:
Position planning and approval process
Integration to job portals like LinkedIn, Stepstone, XING, Broadbean etc.
Applicant management including automated communication
CV Parsing with Textkernel
Talent search & applicant pools
Application duplicate detection
Online Interviews via Office 365 Teams
Creation of offers including digital signature (DocuSign, AdobeSign)
Realtime data analysis via dashboards
GDPR Compliance
GDPR support in daily life
through Microsoft Outlook
The GDPR data protection regulations require the complete deletion of personal data of rejected applicants.
When HR managers send CVs and cover letters by email, it is a great effort to delete all data records containing the personal data of each rejected applicant individually.
The integration of HR Management for Microsoft Dynamics 365 and Microsoft Outlook enables HR employees to send emails with links to Dynamics 365 records instead of actual files. Thereby, GDPR compliance is automatically ensured.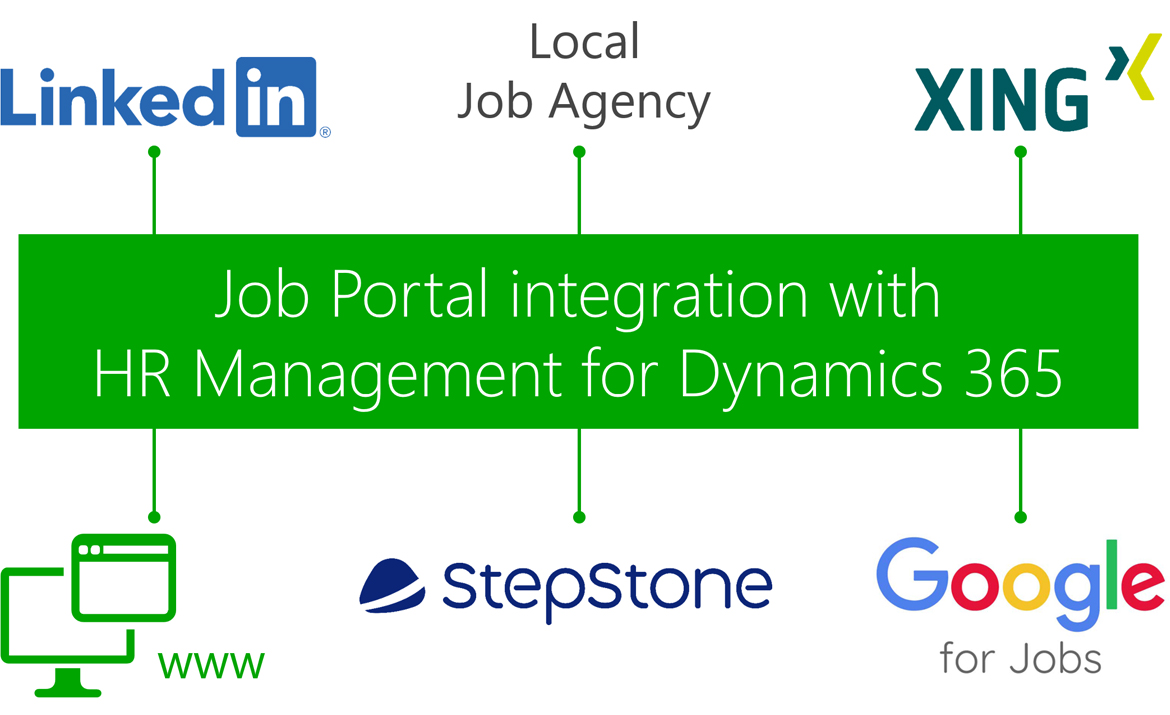 Job Portals fully automated
Stop wasting your time with manually publishing vacancies and typing in incoming applications or applicant profiles. The Recruiting Module does it for you - fully automatically and reliably.
Automated publication of vacancies on your company website/applicant portal
Transfer to the employment agency, job exchanges, XING, StepStone etc.
Incoming applications appear automatically and in a structured way in your system
Transfer CVs from career networks at the touch of a button
Automated creation of applicants and application through StepStone QuickApply integration
CV parsing to automate large numbers of applicants from other sources
Time savings and no more typos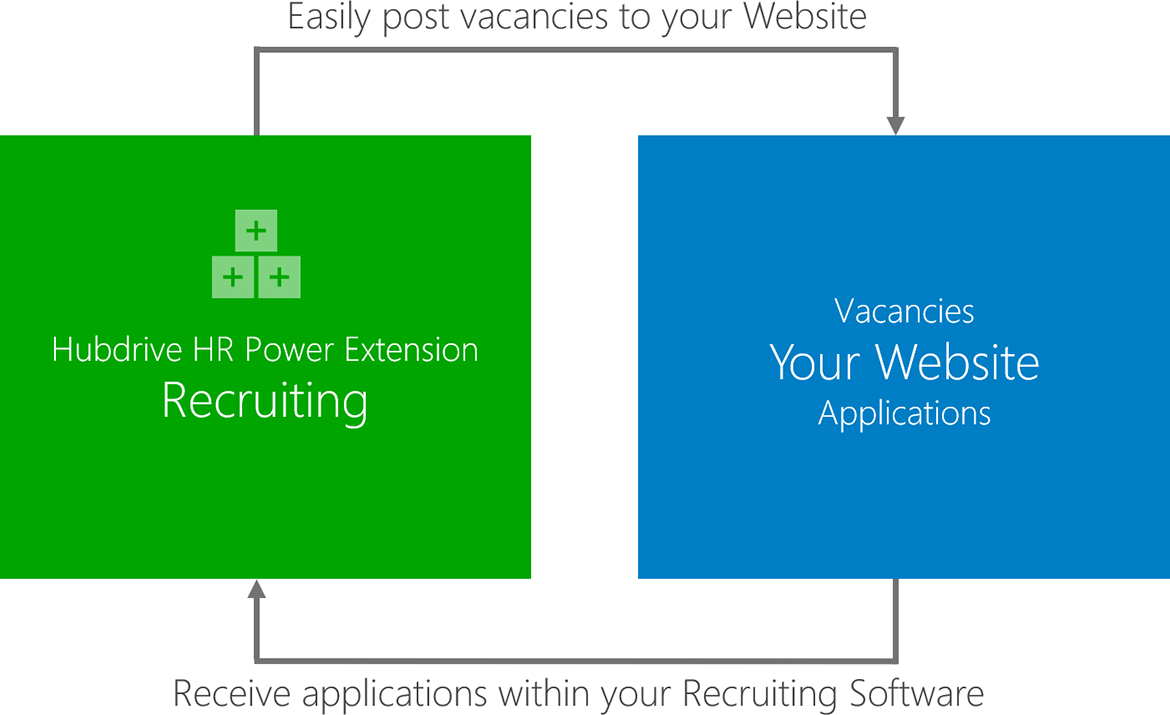 Your own Recruiting Portal on your website
The Recruiting Portal is a complete and automated applicant portal for your website.
All jobs created and approved in your recruiting software are automatically published in the portal at the touch of a button.
Applicants enter their data directly in the portal. All data and attachments are transferred to your recruiting software in a structured and automated way. You don't have to enter any data manually or multiple times and see all necessary information at a glance.
Optionally, you can ask applicants to rate their skills. This offers an initial overview and enables you to compare the data directly with the required knowledge. This function is, of course, freely configurable.
The Recruiting Portal also offers an optional online assessment which helps you learn more about your applicants. Freely configurable questionnaires are filled out directly by the applicant and the results are transferred in a structured way to the internal digital personnel file.
The portal does not only support you before hiring new employees, it also helps you during onboarding, e.g. with the electronic entry of employee master data by the applicant - even before entering the company.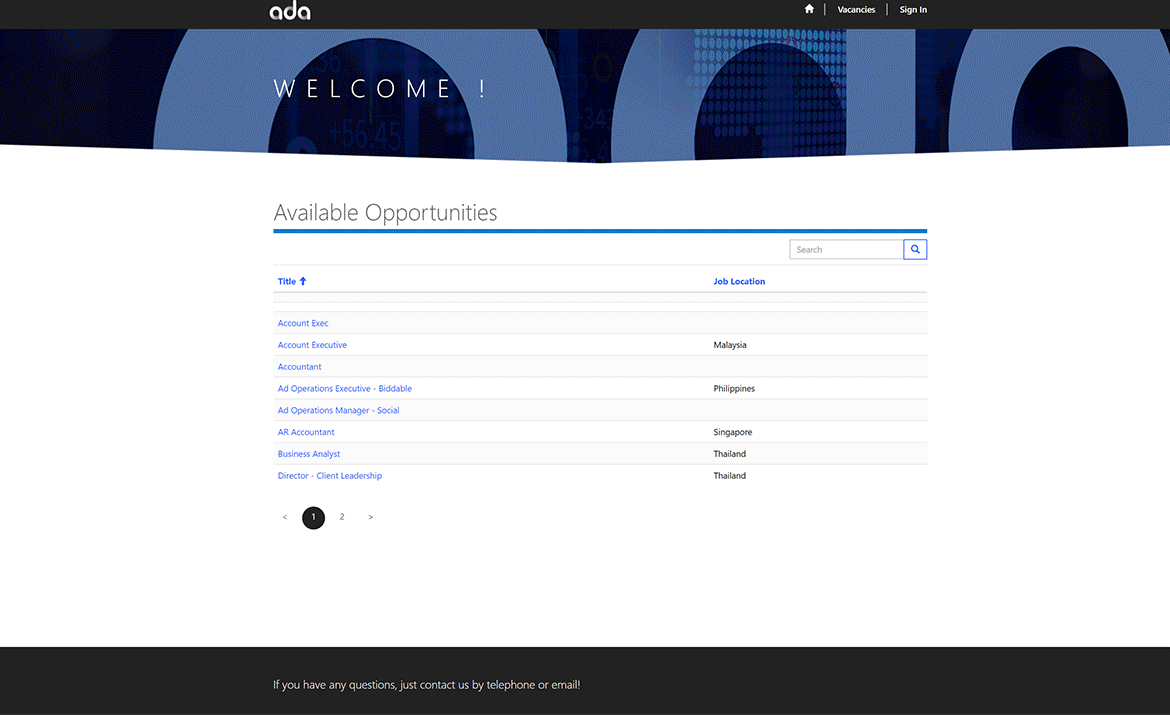 The Recruiting Portal highlights
Complete recruiting portal for your website
Easy adaptation of your corporate design
Publishing of vacancies in real-time
Multilingual
Google for Jobs Ready
Applicant forms can be adapted by drag-and-drop
Application process incl. optional self-rating
GDPR compliant
Optional assessment of applicants via Microsoft Forms
Query of employee data as part of Onboarding (employee master data sheet)
Easily extendable through
Best Practice Recruiting
The solution already contains numerous best practice workflows that have proven to be successful. This allows you to benefit from the experience of thousands of customers in your industry.
A configuration assistant helps you to start with the default settings that suit your company. You can adapt the workflows to your individual processes at the click of a mouse or you can simply create your own process flows.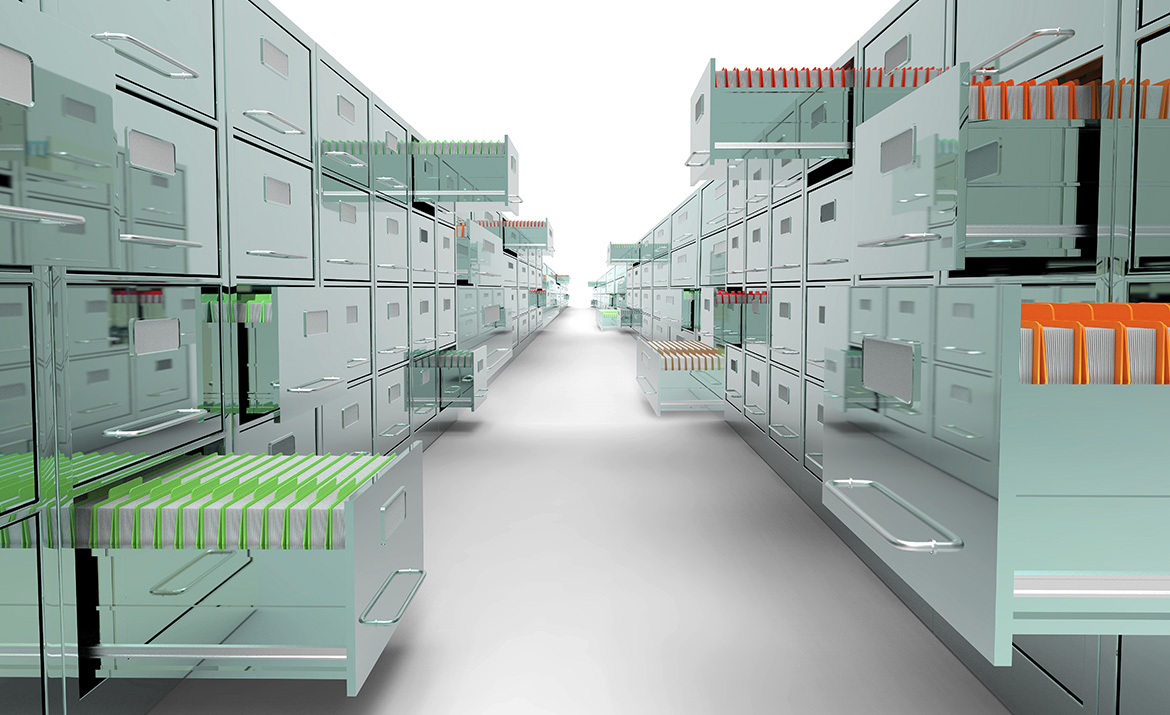 Template-based Vacancies
The module helps you to create vacancies more efficiently on the basis of templates and supports you in coordinating with the specialist department as well as publishing on various media.
Create standardized job profiles for specific areas of responsibility
Use job profiles as templates for vacancies
Department managers use job profiles as a basis for concretizing and submitting vacancies
HR is managed on a process-based basis through enrichment and coordination with different departments
After approval, the publication takes place fully automatically on career platforms and your company website
Also Use Microsoft Word templates to print the job advertisement in your design and publish it as a poster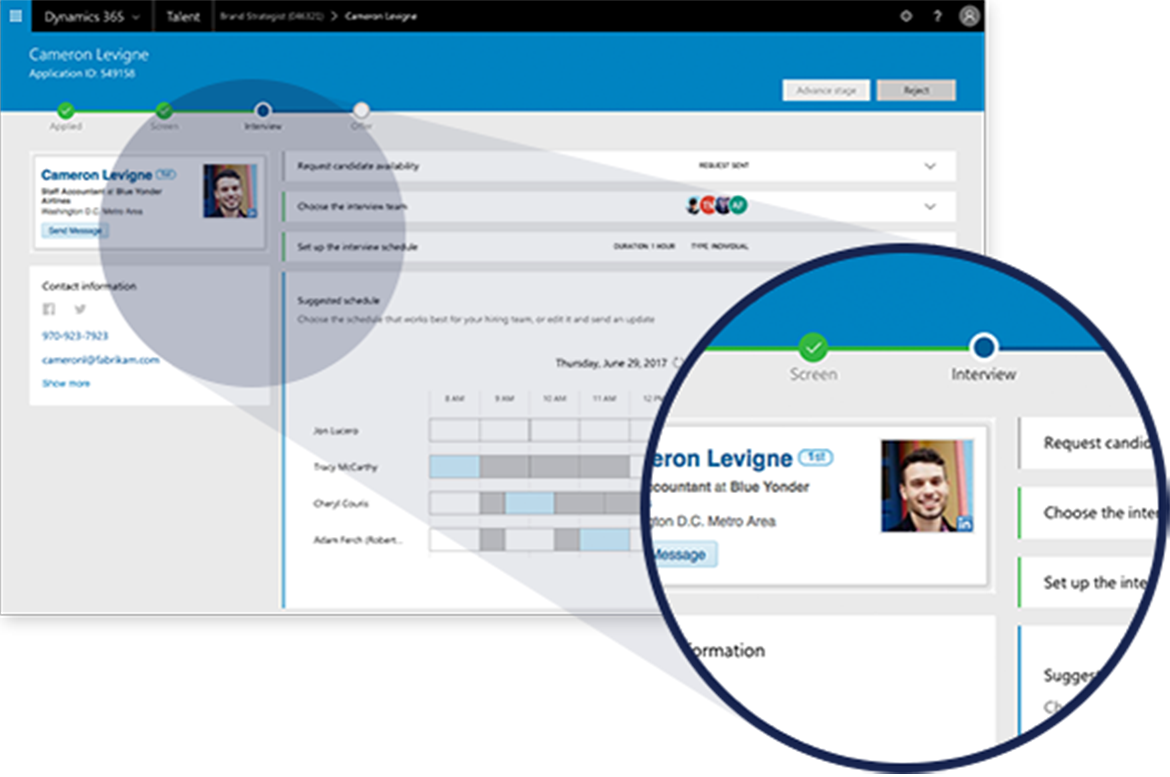 Addressing and Recruiting Employees
Find employees that are a perfect fit for your team.
Quickly find the talented people you need and offer them an attractive application process with StepStone QuickApply and through native integration with LinkedIn and optimized networking between applicants and the right people in the organization.
Simplify the application process for candidates with StepStone Quick Apply: Applicants can apply directly on StepStone and the entered applicant data is automatically imported into the system and an application is created
Simplify the evaluation of resumes throughout the recruitment process by matching them against LinkedIn profiles.
Improve communication with native integration with LinkedIn InMail and mobile feedback capabilities.
Streamline job interviews using Office 365 to coordinate calendars and set appointments.
Video Conferences with Applicants
Start video conferences directly from the Recruiting module via Microsoft Teams for interviews with applicants. At the push of a button you can see your applicant and talk to him or her.
It is really easy: you can start Microsoft Teams directly from your PC, notebook or tablet. You can even exchange application documents live.
Use video conferences for a first meeting, also spontaneously
Reduce travel costs for applicants to a minimum
Have a three-way conference with the applicant and the head of department
Start international application rounds without travel expenses
Impress applicants with your innovative strength
Forward conclusive recordings of the interview to managers
Transparent Recruiting
The integrated applicant management supports you throughout the entire life cycle, from receipt of the application, through the assessment, evaluation & interview phase, to hiring or rejection.
You monitor all steps in comprehensive charts.
Transparency over all applications, even with large numbers of applicants
Use of recruiting channels at a glance
Publication location and costs of recruiting channels transparent
Necessary need for action identified at a glance
High degree of automation via automated workflows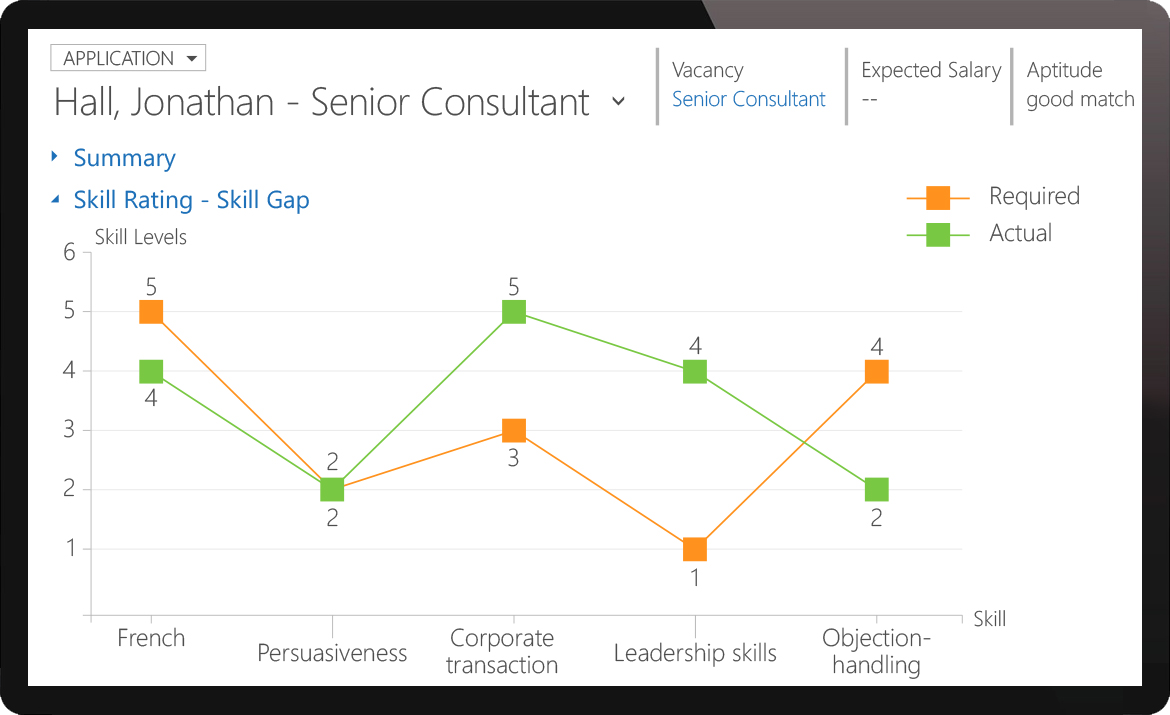 Skill Rating
In the Recruiting module, you can see at a glance how suitable an applicant is for the job posting in question. Assign points for required skills on the basis of the application documents or have the applicants carry out a self-assessment in your application portal.
The required and actual skills are compared in a diagram - directly in the application.
Skill rating directly in the application
Award points for required skills
Self-assessment of applicants possible in the applicant portal
Target/actual comparison of the required skills by diagram
Identify suitable applicants at a glance
The applicant's skills can later be automatically transferred to the personnel file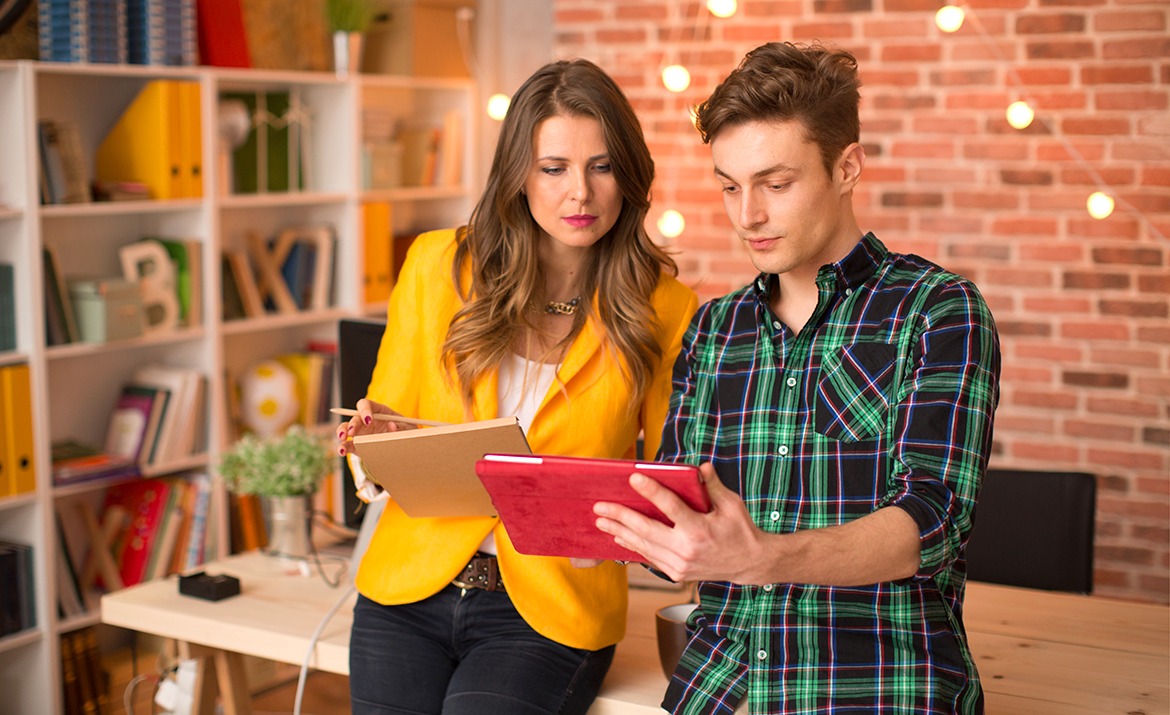 Onboarding
The Onboarding module supports you from signing the contract until the first working day and even further until the end of the onboarding of the new employee.
Before the employee's actual start date, you can use electronic forms in the Onboarding Portal to request additional information from him or her, such as bank details, social insurance number, and so on. In addition, you can also send important documents to the employee like the employee manual and even videos. At the same time, all participants (IT, purchasing, supervisors, ...) receive all necessary information to prepare the employee's workplace.
From the first working day of the employee, the system supports your team and the new employee in the structured orientation process. Tasks for issuing equipment such as laptops and access cards as well as appointments for orientation purposes and trainings are provided directly to the new employee and all other team members via their Outlook, browser or on their smartphone.
Last but not least, the function can also be used for the Offboarding of employees. The Onboarding module supports transfers, returns of company items and all other tasks when an employee leaves the company. All of these processes and automations are based on templates. Sample templates are already included in the scope of delivery.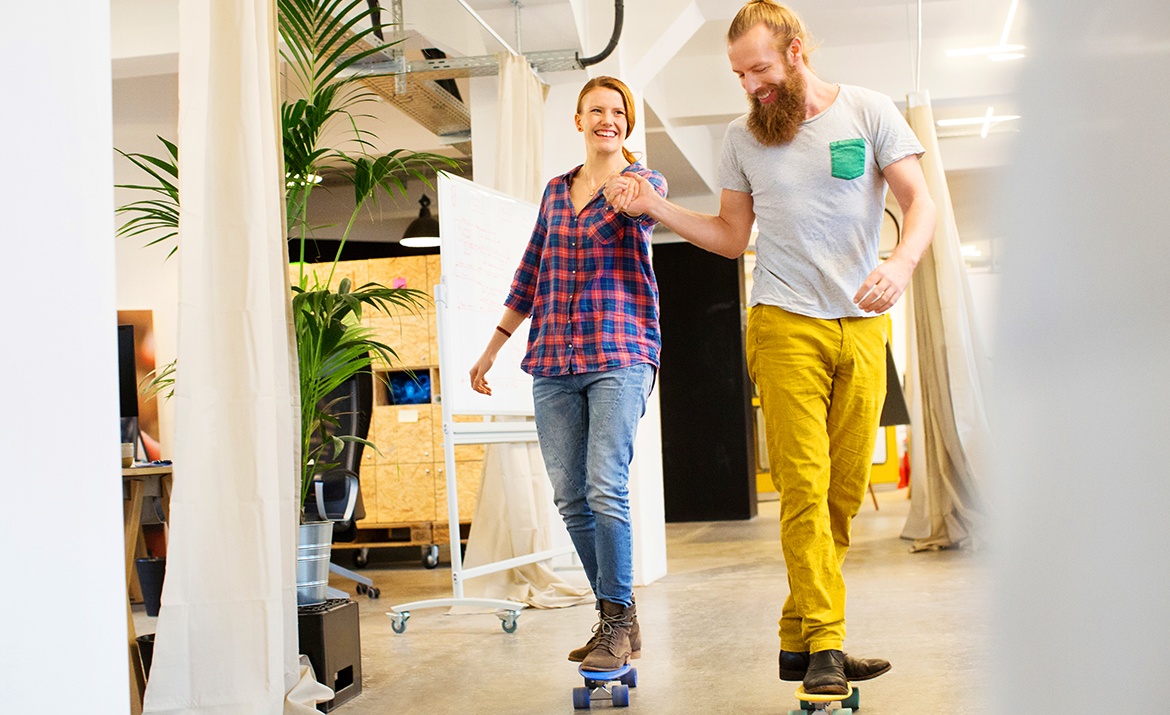 Onboarding Highlights
Definition of any Onboarding Templates
All phases of Onboarding are supported (before start, after start,…)
Synchronization of tasks and appointments with Microsoft Outlook
Automatic assignment of tasks to the right person, group, team
Automatic information of recipients about new tasks
Easy monitoring of completed tasks
Applicant gets access via Onboarding Portal
Handing over of tasks to the applicant before hiring
Query of applicant's data via onboarding portal
Onboarding module can also be used for Offboarding
Sample templates for Onboarding and Offboarding included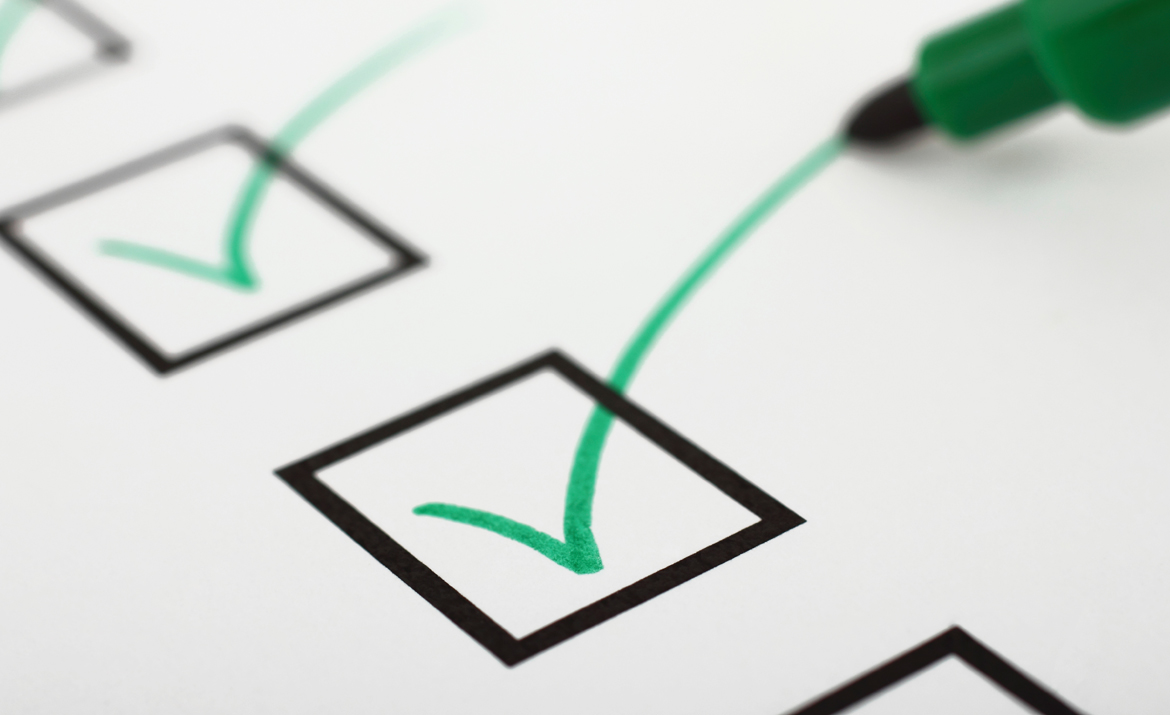 Automated onboarding
The module supports you in the structured and automated onboarding of employees. Tasks & appointments created on the basis of templates provide structure.
Automated creation of onboarding projects from templates
Automated creation of task lists
Automated assignment of tasks to the responsible persons
Automated notification of the recipients
Automated creation of appointments for trainings in the Outlook calendars of new employees
These employees will then automatically find all upcoming appointments in the Outlook calendar on the first day
Simple monitoring of progress via dashboards
PS: Electronic checklists ensure that nothing is forgotten even when employees leave the company. All keys will be back, forms signed and equipment handed in.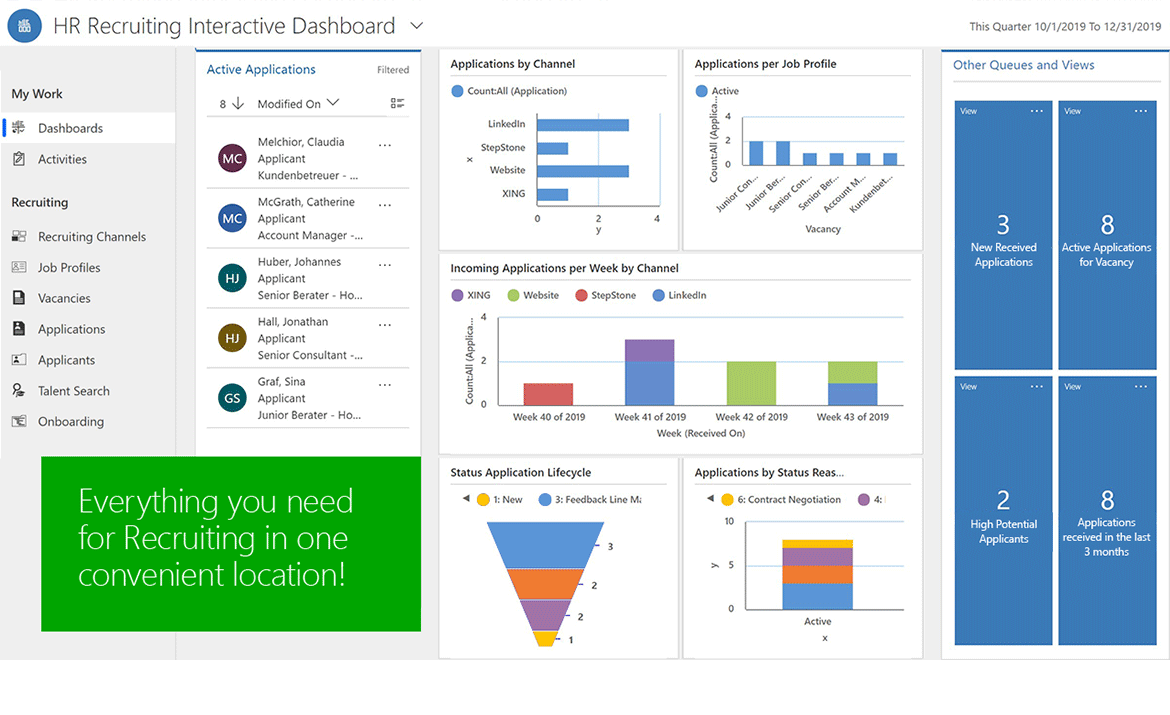 Screenshots Recruiting & Onboarding
Get a first impression of the look and feel. The modern user interface adapts to all devices and form factors. For more insights, please contact our team.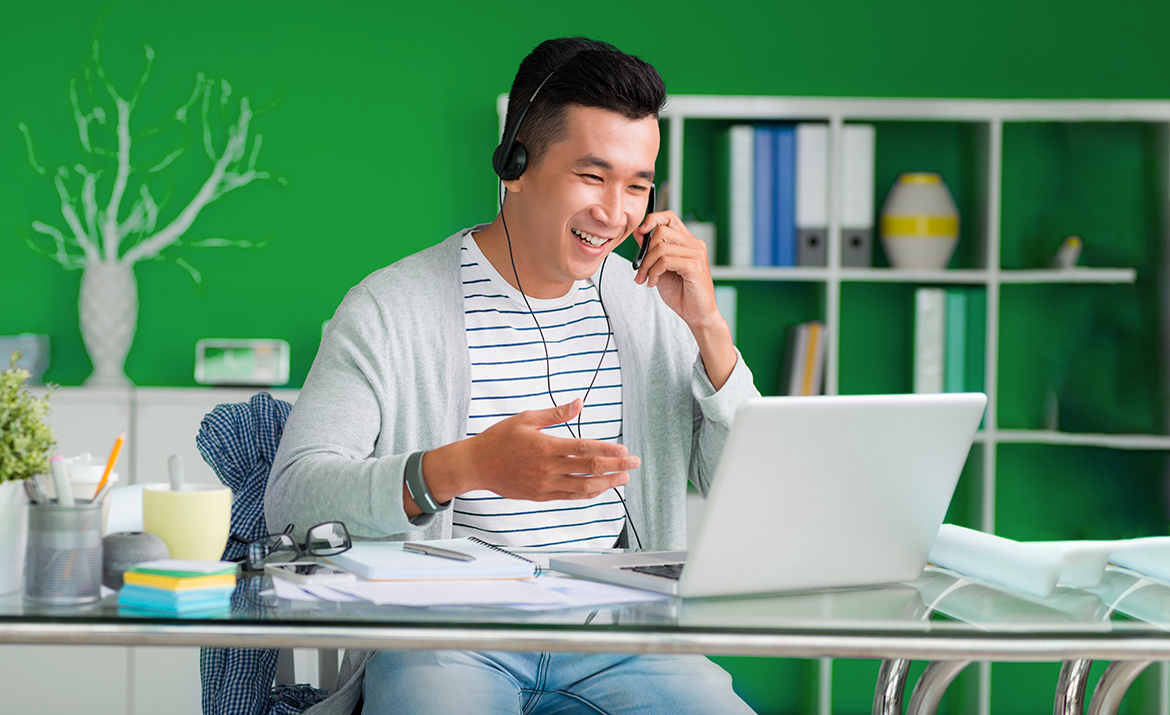 Experience HR for Dynamics live
Experience innovative HR Management in the Microsoft Ecosystem live! In an online presentation, one of our HR experts from your region will show you solutions for your individual requirements. At the same time, you will get to know innovative HR Best Practices.
What's the benefit of a 60 minute live presentation?
You will see innovative solutions for your planned improvements in HR
You will get a deeper impression of the solution
Your questions from HR and IT will be answered immediately
You will be able to better assess the benefits for your company