Rollup Update 34 available
September 06, 2021
You can find technical information on our update here
Overview
Staff Administration
Leave & Absence
Time & Attendance
Improvements in the Use
Try Rollup Update 34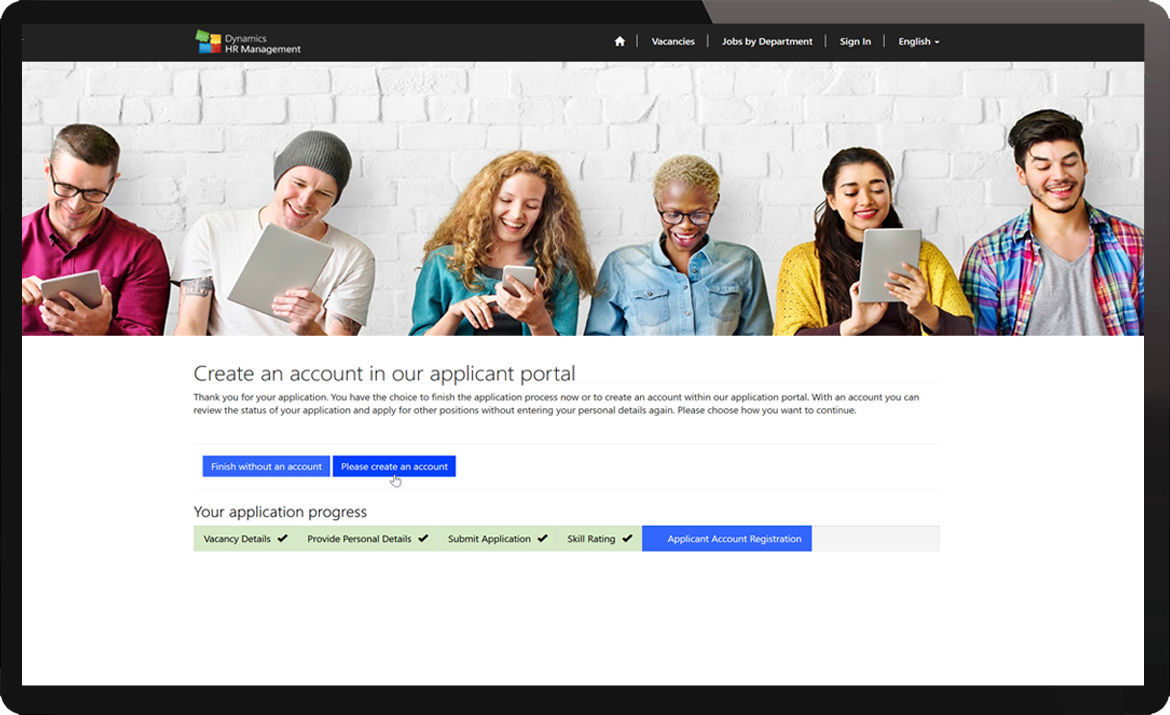 Recruiting Portal with Applicant Login
Applicants can now create an account in the Recruiting Portal to manage their applications and check their status. This means that the personal data, which is stored in the account, no longer needs to be entered individually for every application, but simply can be transferred for additional applications in the portal and can be changed at any time. Of course, the personal data of applicants will be stored and managed in compliance with GDPR.
However, this not only helps applicants to apply for interesting jobs easily, but also the company benefits from the Applicant Login. By entering the personal data only once and using it again and again, no double data entries are stored and this decreases the number of errors.
Make the application process even more convenient for you and your future employees!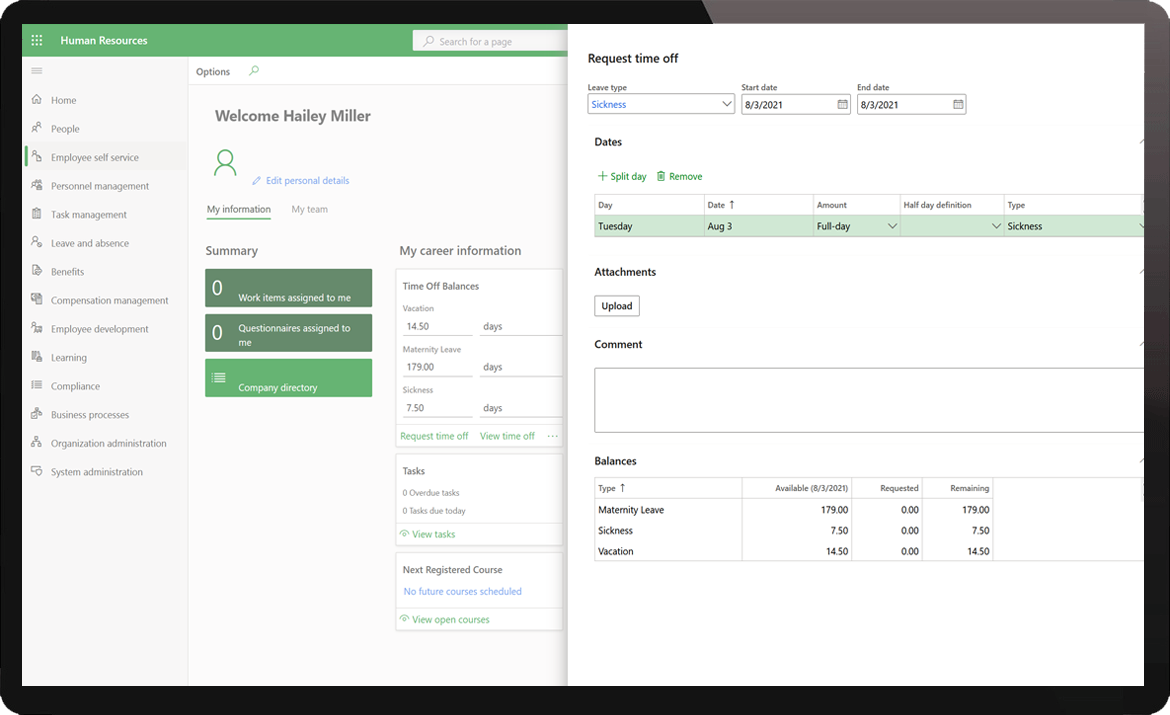 Integration with Dynamics 365 Human Resources
The integration of HR for Dynamics with Dynamics 365 Human Resources has been enhanced so that users can now submit and manage absence requests in Dynamics 365 Human Resources.
The integration transfers absence requests from Dynamics 365 Human Resources to HR for Dynamics, where they can be seen in the daily summaries and used for the calculation of target hours.
If the status of an absence request changes in Dynamics 365 Human Resources, for example due to cancellation, this change will also be transferred to HR for Dynamics. This ensures the correct calculation within the daily summaries.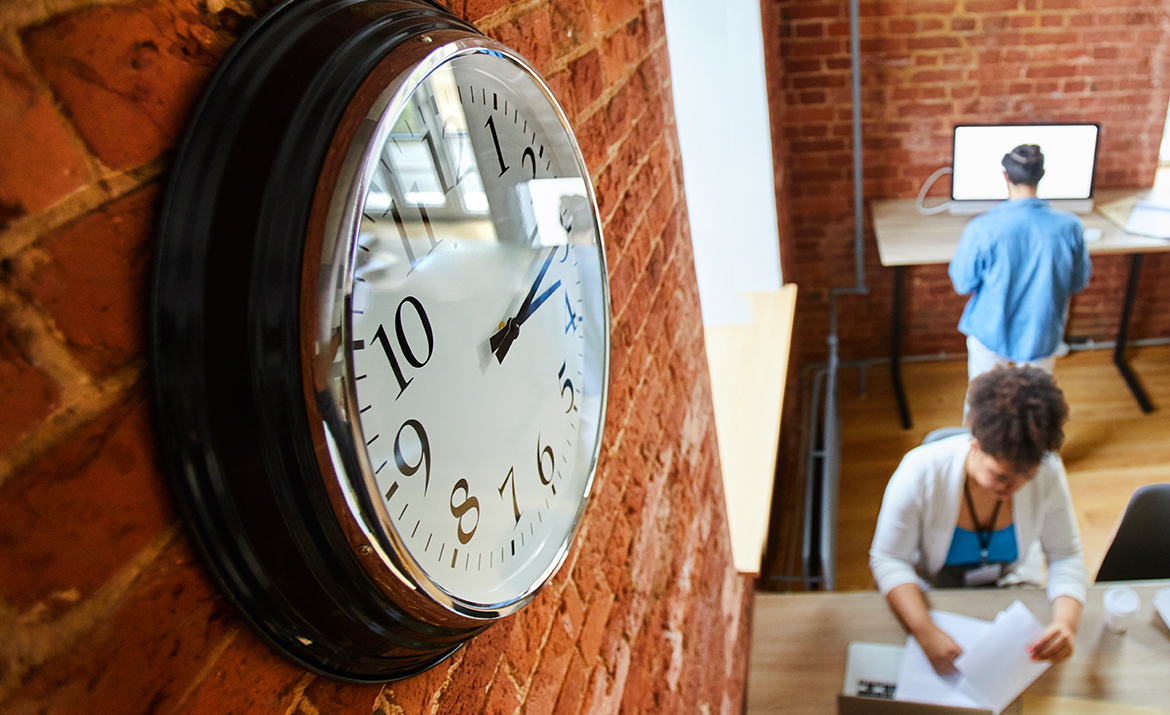 Improvements in Leave & Absence Management
Due to newly added fields in the leave summary, we created more transparency and clarity. Especially in managing absence entitlements and carrying them forward to a new fiscal year.
Leave requests can now be submitted even faster, as from now on the form corresponding to the user's security role (e.g. Supervisor) opens automatically.
The individual rollout of business closures is now easier than ever! New employees have started working at your company after rolling out the business closure and you have to add their vacation in a cumbersome way? Due to our update, you can now fast and easily add individual employees to rolled out business closures and the employee automatically receives an approved leave request directly in the system. Additionally, the system takes into account the start and end dates of valid work contracts and only adds the employee to business closures during that period.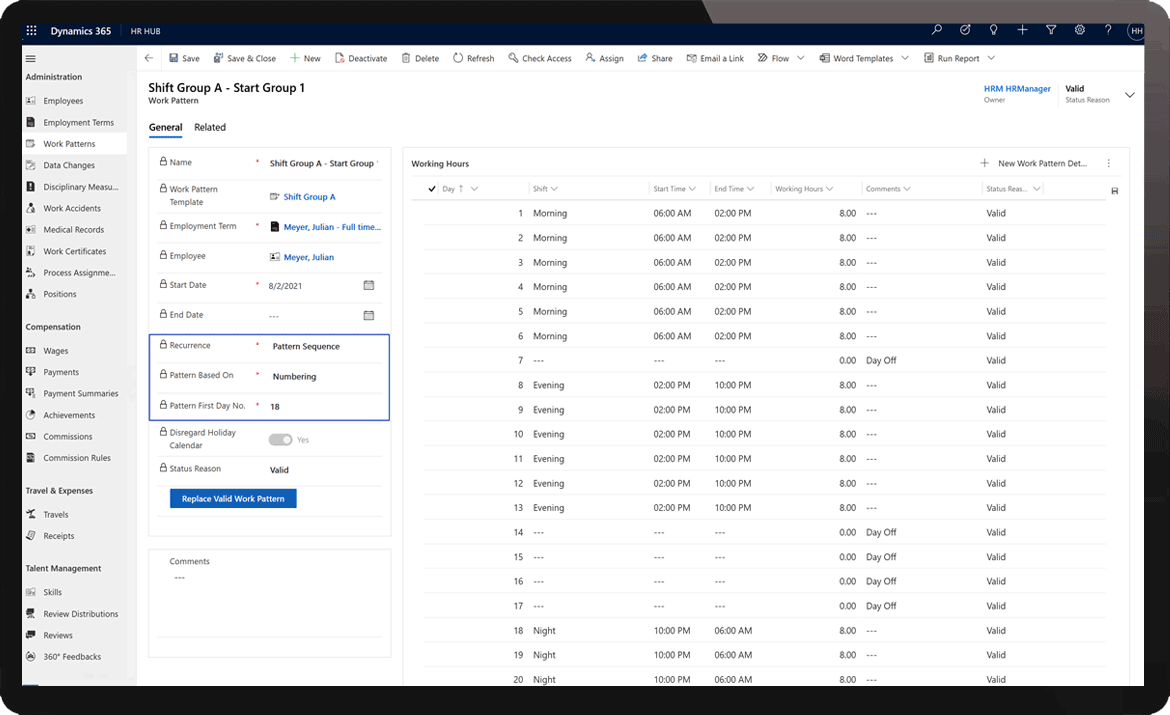 Improvements in Work Patterns
There are also great improvements regarding work patterns. You can now set up work patterns not only by weekdays, you can also simply use the number of the work pattern detail.
This makes it much easier to define and apply with a long time period (e.g. 90 work pattern details). For example, an employee can now start on day 73 of a work pattern and does not necessarily always have to start from day 1.
You can now choose if the work pattern should be based on weekdays or numbering (e.g. starting on day 28).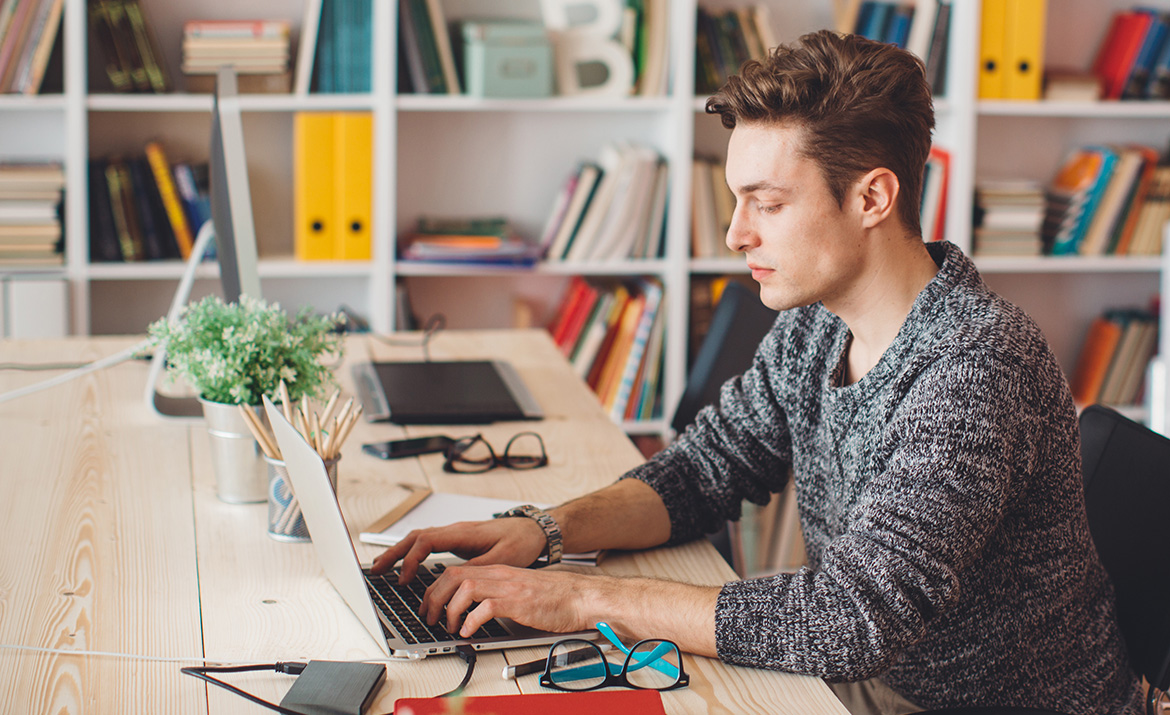 Improvements of the User Experience
In Rollup Update 34, we focused on improving the user experience. We are continuously working to make the solution even more intuitive and convenient for our users and constantly improve existing functions. In Rollup Update 34, there were a number of improvements that make using the solution even easier and more convenient for you. It makes working in HR even more fun!
If you'd like to see a complete list of our user experience improvements, just read on in our Technical Release Notes.
Discover Rollup Update 34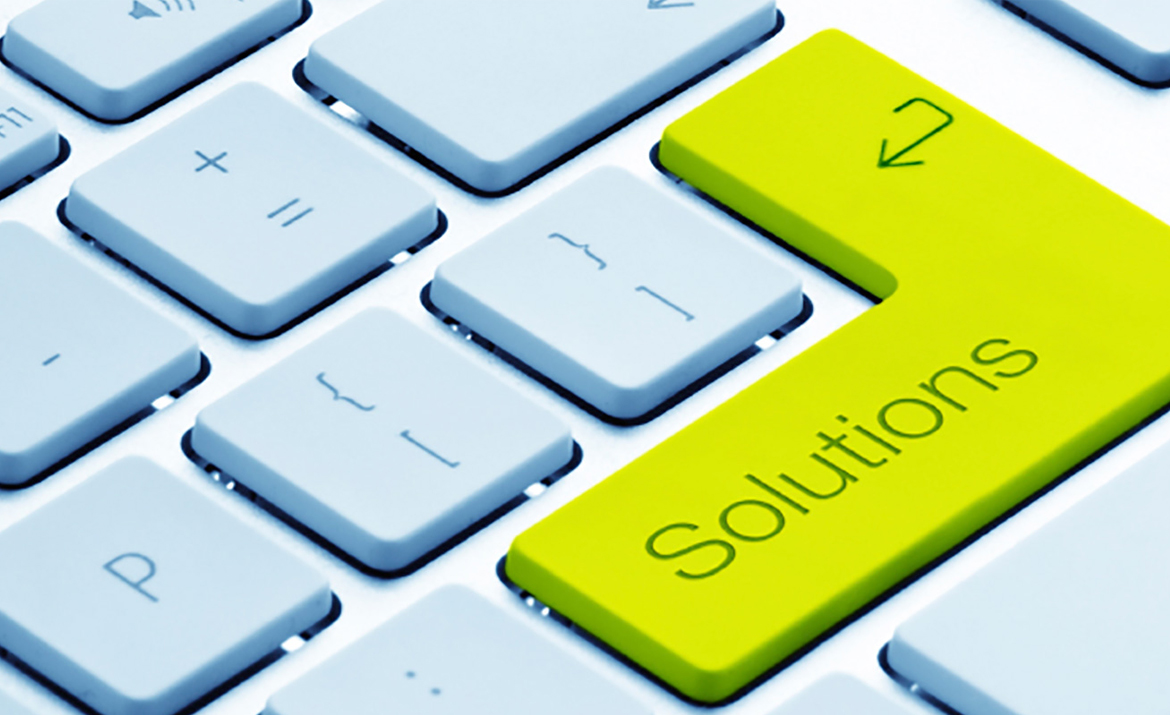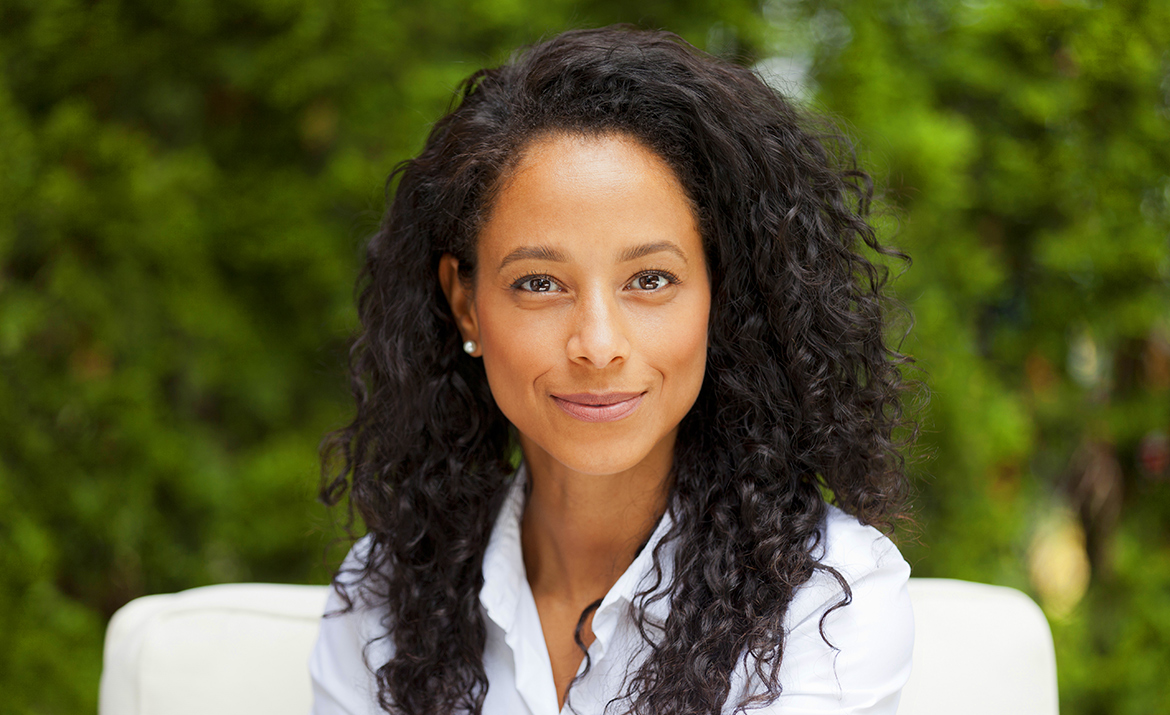 Contact
You have further questions about the Rollup Update or would like to contact us?