4. Time and Attendance
---
Monthly Rollout of Daily Summaries
Download add-on
Go to the Download Page in the Customer Portal
Answer the questions to find out what solution you need
Download the file Flow: Monthly Rollout of Time Summaries for Employees (do not extract the file)
Install add-on
In the menu bar click on My flows

In the top right corner click on Import

Select and import the file you downloaded before
When the import is finished, click the option shown below in the section Review Package Content and select the connection to your Dynamics 365

Click on Import and wait a moment to finish the process. You will get a notification about the successful import. Click on Open Flow

Click on Create a record and press the X to delete the organization name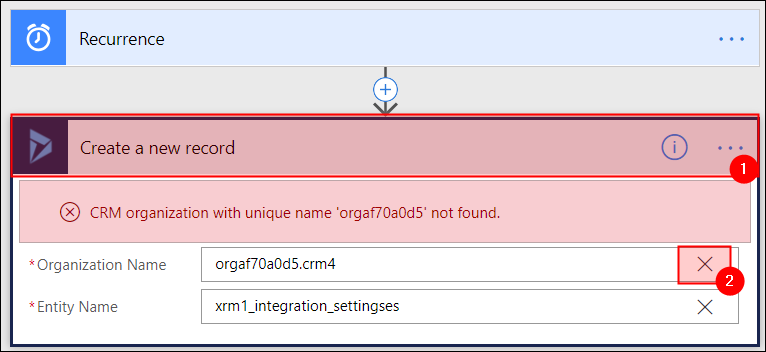 It may take a moment till the drop-down menu opens. Choose your organization and confirm by pressing Save

In the menu bar click the ellipses and select Run now

Press Run flow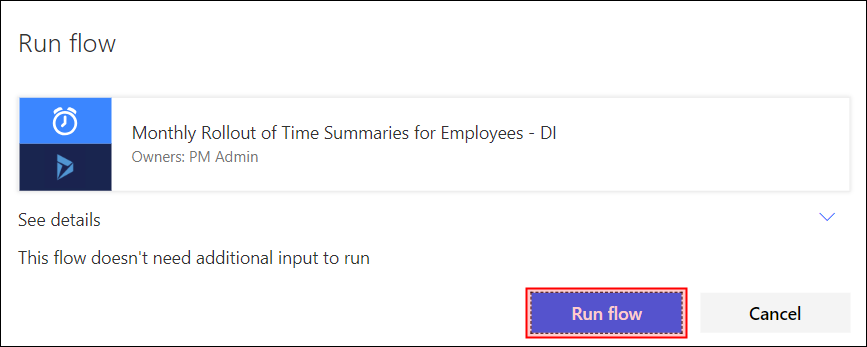 If you click on See flow run activity, you can check the success of the flow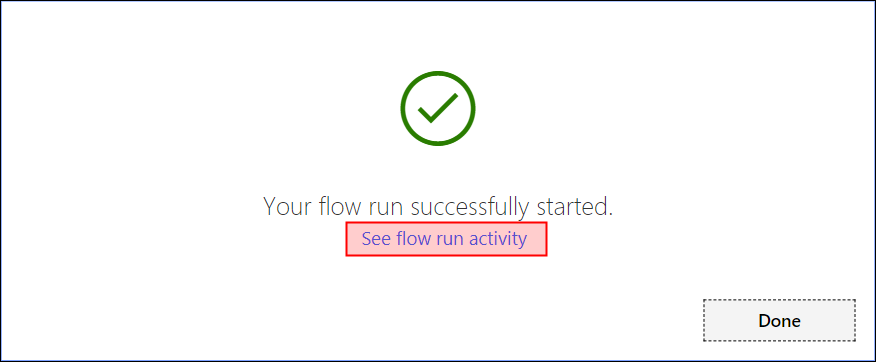 You should see the notification about the status, the start time and the duration

Depending on the number of employees it may take some minutes to create all records. When finished, all Time Summaries, Time Sheets and Daily Summaries are available for all employees. All records created start next month. If you want to use all functions of time and attendance immediately, you need to create the data one time only manually. You can use the import function, so you don't have to create everything manually.
Go to Navigation Bar -> HR -> Time Summaries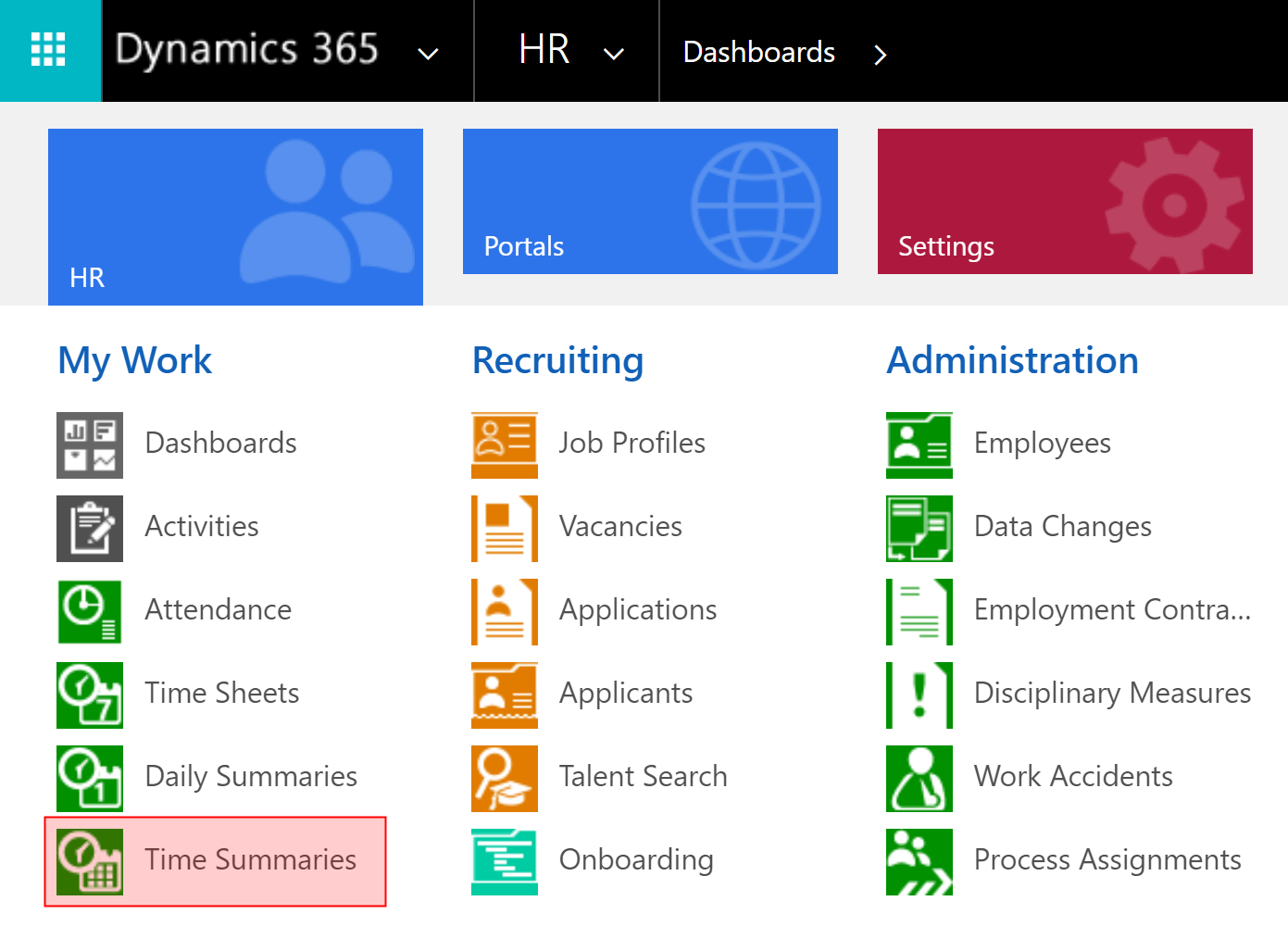 In the menu bar, click on the small arrow next to Import Data and select Download Template for Import

Open the file and fill out the columns Employee, Start Date and End Date. You can ignore the other columns. Pay attenttion to the correct format of the cells.
Hint: Export the list of active employees, so you can copy the column from there. This way, you can't forget an employee and there won't be problems with the format.
Save and close the file. To import the file, go back to Dynamics 365, click Import Data in the menu bar and follow the dialogue.
The import will create all Time Summaries for all employees. This will trigger an automated process in the background, which creates all Time Sheets and Daily Summaries.
For more information, see this article: Time and Attendance
---
Update missing attendance details
With the help of Microsoft Flow it is possible to check the daily summaries for missing attendance data. It is a purely technical monitoring, so that the calculation of overtime is not disturbed and should therefore be used unconditionally. This Flow examines the daily overview of the previous day. If this does not have an entry, the attendance is set to zero.
Download extension
Go to the Download Page in the Customer Portal
Answer the questions to find out what solution you need
Download the file Flow: Daily Summary update for empty attendance (do not extract)
Install extension
Go to Microsoft Flow and log in with your Dynamics 365 admin credentials

If you haven't created a connection between Flow and Dynamics, please follow these instructions: Microsoft Flow - Establish connection to Dynamics 365
In the menu bar click on My flows

Click Import in the top right corner

Now select the file you have previously downloaded and import it
When the import is complete, click in the field Review Package Content option Select during Import and select the connector to your Dynamics 365

Click on Import and wait a moment to finish the process. You will get a notification about the successful import. Click on Open Flow
Click on List records and press the X to delete the organization name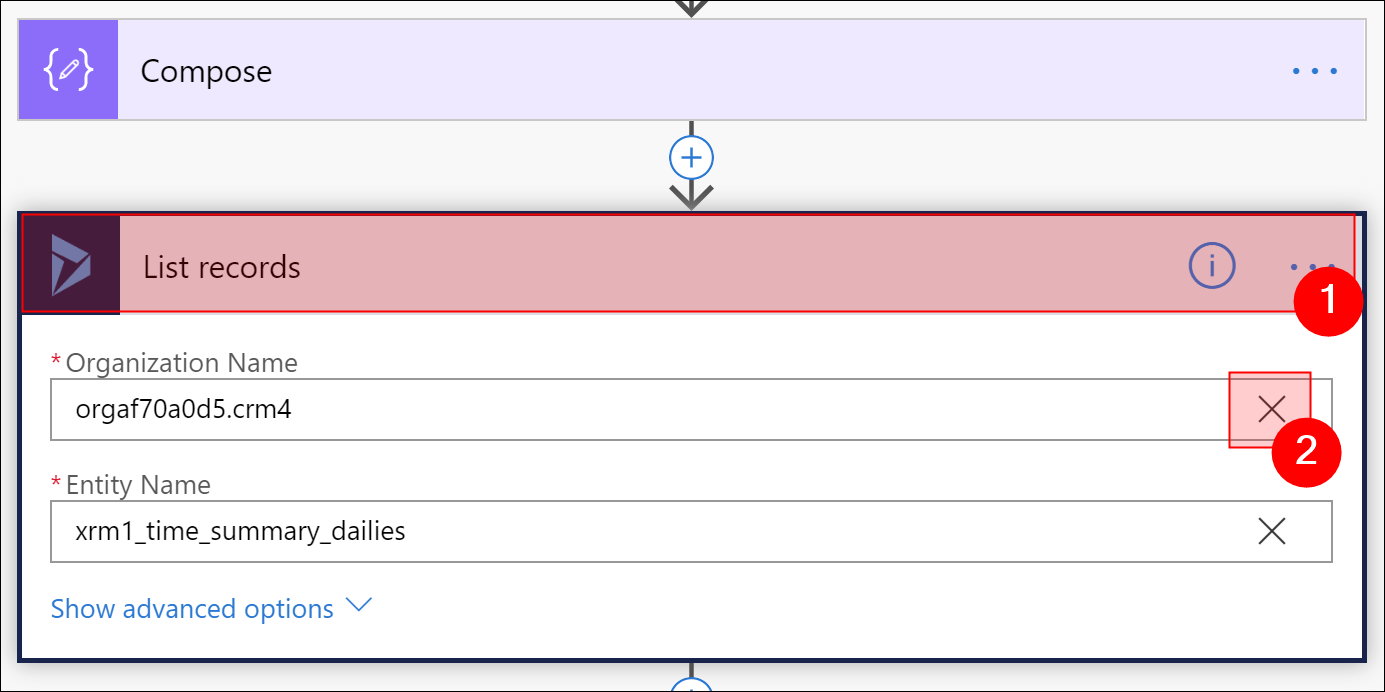 It may take a moment till the drop-down menu opens. Choose your organization and confirm by pressing Save

Mark the imported Flow and press Run

Press Run flow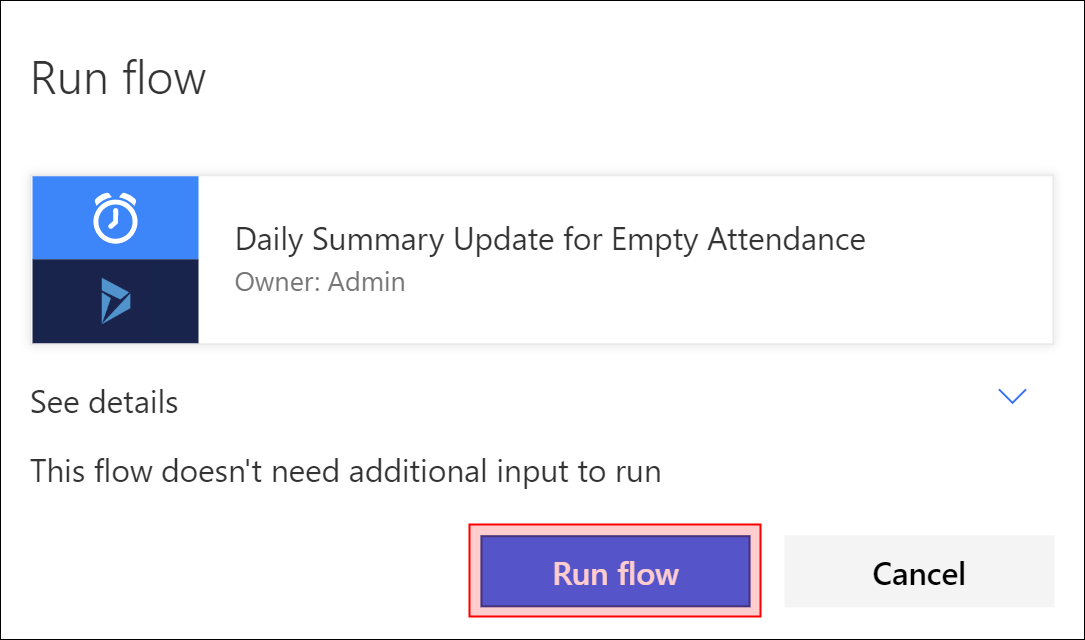 If you click on See flow run activity, you can check the success of the flow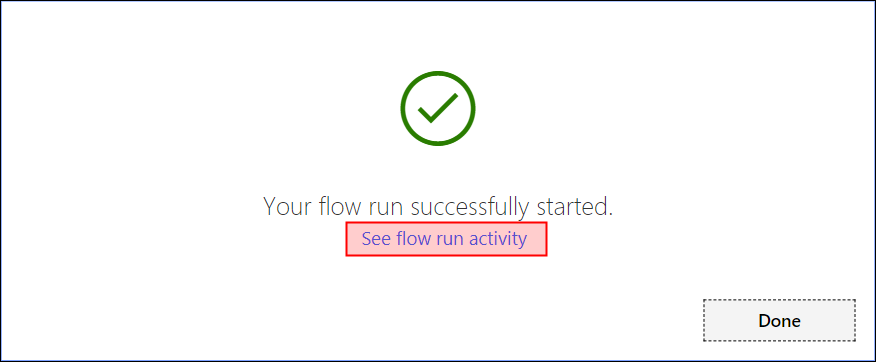 You should see the notification about the status, the start time and the duration

---
List of workflows that send emails or create tasks
Please view this article on how to change the content of the email: How to customize workflows and personalize email content
| Name of the workflow | Trigger | Recipient |
| --- | --- | --- |
| Attendance Clean up Child workflow - HR Management [EN] - xRM1 | When an attendance detail of type end is created automatically by the system | HR Manager or Manager of the employee (english) |
| Attendance Clean up Child workflow - HR Management [DE] - xRM1 | When an attendance detail of type end is created automatically by the system | HR Manager or Manager of the employee (german) |